A bike light that creates virtual bike lanes wherever you go? That's the promise behind the NiteRider Sentinel 40, a rear light that comes with a special "laser lanes" mode that projects two bright lines on the ground around your bike.
With the days being so short this time of year, I was intrigued by the pitch from an old friend who works for NiteRider, the light company based in San Diego, California. They sent me a Sentinel recently and I've been using it for a few days now.
The light is larger in size than others I've used. It feels strong and well made. There are two buttons on the top of the light, one of them controls the light and the other controls the laser. The light and laser both have several modes so you can choose between a strobe, long flash, or steady (my preferred setting). Light many lights these days, the Sentinel is USB rechargable. The USB port at the bottom of the light and there's a solid rubber closure attached to it that keeps the water out.
The light itself has a 40 lumen output, which is plenty bright for me.
Then there are the lasers. Lasers. I just like saying it. Maybe it's because I'm getting old, but there's still a part of me that gets excited when I think about lasers. Having two of them in my bike's tail-light is like the coolest thing ever.
But beyond the coolness factor, are the Sentinel's "laser lanes" really effective as a safety device? Or are they just a fun gimmick?
Testing the flashing mode on my office carpet.
via GIPHY
In their marketing materials, NiteRider says the lasers are "designed to project ultra bright laser lines on the ground, giving the rider their own virtual lane… so that cars can see when they're getting a little too close."
There's no denying that the lasers are ultra bright. When I first turned them and then hit my legs, I almost felt like I should jump out of the way in case they burned right through my skin and shoes. When I snapped the light onto the mount on my seatpost (and I will point out that I like the rubber strap mount it comes with, which makes it easy to swap the light between different bikes) the laser lanes appeared just as advertised.
They're definitely impressive at first glance. And from my perspective looking down at them while I ride around town, they add a feeling of stature and strength. Yes it's just a strip of light (and a darn skinny one at that), but it's something. It's as if I've drawn a line on both sides of my bike that says: "Don't cross these things or there will be trouble."
But the true test is whether or not other road users can see them, and more importantly, will they adjust their behavior when they do?
Here are a few shots of them in the field: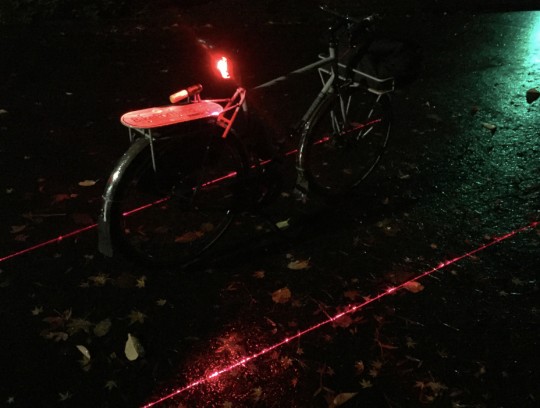 While riding up North Williams the other night, a friend who had ridden up behind me said, "Cool lights." Then when I asked if he could see them from any distance behind me he said not, "Not really. I didn't notice them until I was right behind you." Then there was the TriMet bus operator. He noticed them while I waited next to his bus at a red light. He was very intrigued. "What do you think of these lights? Can you see them?" I asked as he rolled down his window to get a closer look. "Oh yeah," he said, "I can see them."
The one test I haven't done yet is to get behind the wheel of a car to see if the lasers are still visible as I approach someone on a bike. My hunch is that even if they were visible, the person on the bike would already be visible too, so I'd already be driving more carefully.
In some ways I've felt like the lights are more useful to improve interactions with other bicycle riders. I ride slowly around town and too often get passed rudely by others. With these lasers, it's like I've got a personal space buffer that will keep others as a safe distance.
Like the bike lanes they aspire to be, these laser lanes won't save your life. But if you're looking for extra visibility, cool factor, and a fun conversation starter, they're worth buying.
The Sentinel 40 retails for $49.99. Get more info at NiteRider.com.
— Jonathan Maus, (503) 706-8804 – jonathan@bikeportland.org