My bike's profile in the app.
One of the cool things about having a good friend or a partner with a different knowledge set than you is that it gives you access to expertise without having to be an expert in everything yourself. Since my partner is a bike mechanic, it means I don't have to master a headset press — and he doesn't have to master WordPress.
Although I'm very familiar with basic bike maintenance, I'm by no means an expert. Sure, I understand how to adjust my derailleur, but I'm always going on guesswork. And un-expert guesswork, at that.
That's the problem that the new derailleur tuning system from OTTO DesignWorks, a startup based a few miles south of Portland in Wilsonville, is trying to solve. Their OTTO Tuning System uses an iPhone's camera, visual alignment technology, and a set of gauges to help you quickly adjust your derailleur. It's compatible with most Shimano and SRAM 9-, 10- and 11-speed cassettes, and costs $39.

Since BikePortland first wrote about OTTO's tuner back in May, they've released version 2.0, which now includes the CHECK feature that lets users determine the accuracy of their shifting in under a minute.
How does it work?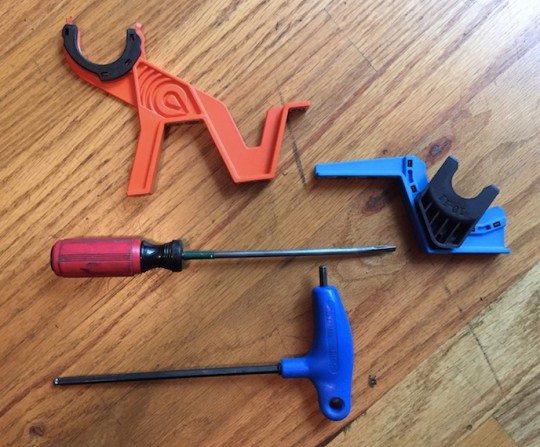 You'll only need a few tools:
• the two gauges that come with the set
• a 5mm allen wrench
• a screwdriver
• an iPhone with the OTTO app downloaded (Android version is in the works)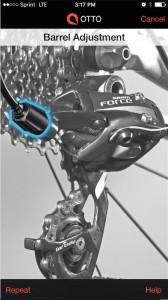 The app walks you through each step of the initial calibration and derailleur adjustment, using a combination of text and videos all narrated by Siri. (A note: The ability to turn off Siri's narration would have been nice.)
Using the app is pretty foolproof, but setting the gauges properly takes some experimentation. The orange gauge attaches to your upper jockey wheel, and the blue gauge sits on the cogs of your cassette. It took some fiddling for me to get the orange gauge seated properly on the jockey wheel of the derailleur.
TIP: You want to make sure you're not pushing your derailleur to the side as you're extending it, otherwise the gauge won't seat. You want the little tabs to align perfectly into your chain when your release the derailleur. They have videos and photos on their site if you have any questions.
Once the app is downloaded and configured with your bicycle's profile, you have three options:
• Check, which grades your derailleur adjustment (and is in testing to note the degree your derailleur hanger may be bent)
• Complete Tune, which walks you through turning high and low limit screws and twisting barrel adjusters
• Fast Tune, which just adjusts your barrel
My experience
This product isn't for total beginners. You have to be reasonably comfortable around your derailleur already in order to use the OTTO Tuning System, and the app assumes you own a repair stand or a wind trainer to hold your bike steady. I got it set up with my steel road bike, which has Shimano Ultegra. I'd worked out most of the kinks in seating the gauges the day before, when I'd been attempting to use it on my 1×10 SRAM mountain bike (see caveat below).
After checking my derailleur index score (+0.398), the app took me through the process of setting my high and low limit screws, then adjusting my barrel. I did find the barrel needed a hint more adjustment than the app wanted, but that could be my older, gunky drive train.
It took me 17 minutes to do the Complete Tune, a number that could probably be cut down as I got more familiar with seating the gauges and holding the iPhone at the right angle to read them. The Fast Tune only took about 5 minutes, and is probably all you'd need after doing the Complete Tune once.
I'd say the success you have with the tuner definitely depends on how well the gauges are placed. This is a precise tool, and using it requires precision on your part. After going through the tuning process, I checked my derailleur index score two more times. The only change I made between the two checks was to remove and replace the gauges, and you can see the index score changed by +0.04 between the two checks.
A caveat: This current iteration of the system doesn't work for everything. It currently doesn't work for 1x drivetrains (one front chainring), although that functionality is in the works. Check this list of supported derailleurs before diving in.
That's understandable, but as of this review, the app is set up so that you can choose a derailleur that isn't currently supported. It would be nice to have the app shut you down so you don't spend an hour trying to figure it all out before emailing customer service.
On that note, OTTO DesignWorks has great customer service. When I had trouble getting it to work on my mountain bike, I sent an email to the support address and got a reply very quickly.
Overall, this product worked as advertised. I can see its practicality if you're wanting to dial-in your shifting but lack the confidence in your derailleur tuning skills – especially as they continue to add functionality to the app.
You can buy the OTTO Tuning system on their website or at your local bike shop.
This product was provided to us at no cost by Cyclone Bicycle Supply. They had no influence on the content of the review.
— Jessie Kwak – jessiekwak@gmail.com