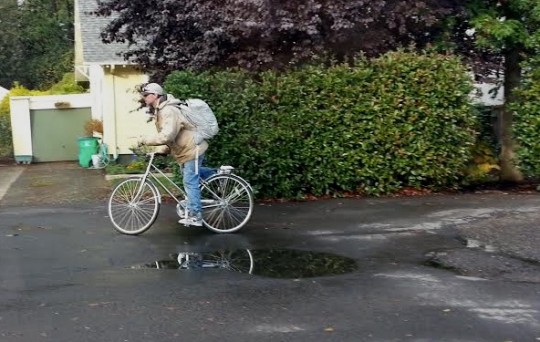 Quick thinking by a southwest Portland resident has resulted in a local shop being able to recover two bikes that were stolen from them last week.

Roger Averbeck was walking on SW Barbur Blvd near Capitol Hill Road when he spotted a man riding a bike that looked familiar. It was the same bike he recalled seeing on our story last week about two new bikes that were stolen from in front of Southwest Bicycle.
Averbeck, a private security guard who also happens to be a dedicated neighborhood transportation activist, thought the bike looked suspicious so he quickly snapped a photo (above). And he didn't stop there: he followed the man to a nearby apartment complex. Averbeck didn't confront the suspect but he took down the address and then called Southwest Bicycle with the information.
Southwest Bicycle employee Nate Gibson rolled over to the apartment complex and found not only the bike pictured in Averbeck's photo, but the other one they'd had stolen as well. The two bikes were a Biria City Classic ($599 retail value) and an EVO City Classic ($379 retail value).
Southwest Bicycle owner Dan Houghton told us last night that Gibson found both bikes, unlocked, leaning against a wall. Instead of trying to take them back, Gibson called the police. "Someone did try to leave with one of the bikes," Houghton said, "but Nate was on the phone with police describing him so he decided to leave without the bike" When the police showed up they took the bikes and they're now back at the shop getting a few minor repairs. (Incidentally, Houghton shared, the police who responded said the apartment building is known, "to be full of drug addicts and sex offenders.")
Like stolen bike recovery stories? We've got tons more of them in our archives.
— Jonathan Maus, (503) 706-8804 – jonathan@bikeportland.org