Posted by Jonathan Maus (Publisher/Editor) on October 22nd, 2015 at 8:14 am
Another day, another story to share about bike theft.
This time it happened in southwest Portland, far away from our usual reports of the daily thievery that plagues the central city. And it happened at a bike shop.
Nate Gibson, an employee of Southwest Bicycle on the corner of Multnomah and Capitol Hwy, says someone took two new bikes they had on display in their parking lot right outside their front door. This isn't Nate's first brush with bike theft. You might recall his heroic role in wresting back a high-end racing bike from a thief this past summer.
Nate tells us the theft happened last night as he was closing up the shop. Here's his version of events:

"So I went outside the shop to bring the bikes inside, at about 19:05 and noticed a sort of sketchy looking guy, White male about 30, flat brimmed hat, sort of a Vanilla Ice look. He seemed very suspicious so I went back inside to wait for him to leave before I unlocked and brought in the bikes. About 10 minutes later I go outside and he is gone (it's pretty dark by now) and the cable that secures them (kryptonite) has been cut and they are gone."
He sent us photos and descriptions of both bikes, which have a combined retail value of about $1,000…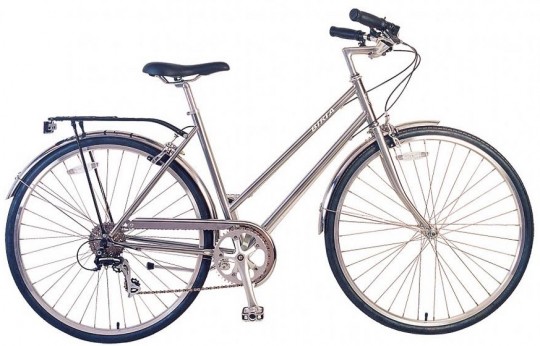 You'd think such a high-profile location like the parking lot in front of a bike shop might deter a thief. Not to mention that these bikes aren't exactly flashy or high-end. But it doesn't matter. Every bike is a target these days. "Thieves take whatever they can get," says Nate. Truer words have never been spoken.
Jonathan Maus is BikePortland's editor, publisher and founder. Contact him at @jonathan_maus on Twitter, via email at maus.jonathan@gmail.com, or phone/text at 503-706-8804. Also, if you read and appreciate this site, please become a supporter.