One of the big obstacles to biking in south-southeast Portland has once again been bridged.
Along with the opening this weekend of the new Orange MAX Line and the Tilikum Crossing, TriMet opened a new Lafayette Street pedestrian bridge across the Union Pacific Railroad tracks in the Brooklyn neighborhood.
It runs from approximately 18th to 20th avenues and connects Lafayette Street, east of the tracks, with Rhine Street west of the tracks.
Though nothing could be as seamless as the tracks not being there at all, the new $3.9 million bridge is a vast improvement on the rickety 70-year-old one it replaced.
As TriMet explains in its official news release, Union Pacific covered $1.7 million of the cost and the Orange Line project covered the other $2.2 million. Half of the Orange Line money comes from the federal government, with the rest coming from various state, local and regional governments.
It's the only crossing of the tracks between the major arterials of Holgate and Powell, and will be a useful link to people looking to head east or west using the bikeway on Gladstone Street, including people moving between downtown Portland and Reed College, Woodstock and Creston-Kenilworth.
It's certainly a sign of how much higher our infrastructure standards are than they were in 1943. Instead of creaking wooden stairs, the new bridge has a roomy, roll-in glass elevator on each side.
If you haven't used them yet, I'll be the first to warn you: These elevators are lessons in how the greenhouse effect works. On a sunny day, they're very, very hot.
Fortunately, the ride is brief.
If you want to skip the elevator and are heading up the stairs with a bike, you can also use the wheel tracks on the right and left of both staircases.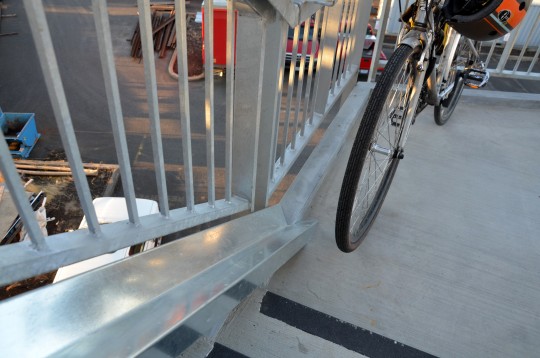 They're built with a nice wide angle, so I was able to lean my bike at a 45-degree angle fairly easily and roll it up without much strain.
Going down was another matter. At the angle required to keep my bike in the track, my bike's center of gravity wound up beneath me on the descent. I decided it was easier just to hoist my bike over one shoulder as I usually do for stairs.
Six or seven people crossed the bridge when I stopped by early Saturday evening, and they all seemed to like the design. There are a few appealing artistic touches and even that sadly forgotten urban amenity, a pay phone:
Because why not? Sometimes you need to make a telephone call.