A 2011 bike share demo in Portland. The city has scrapped its 2012 plan and is rebooting with a unique set of new ideas.
(Photos: J.Maus/BikePortland unless noted)
Second in a four-post series today about bike sharing in Portland.
There's a case to be made against Portland's new bike share plan. But that's coming in a few hours.
First, let's consider a more interesting argument: the possibility that because of its three-year series of mishaps, Portland could wind up with a much better system than it would have without them.
Call it the Fortunate Failure Theory of Portland bike share.
It begins, more or less, with this guy.
(Photo: M.Andersen/BikePortland)
Steve Hoyt-McBeth is a Portland transportation staffer who has been, for the last four years, the project manager for Portland Bike Share. This year, it's budgeted to take up about half his time.
Over the last few years he's also become, I should disclose here, a personal friend of mine. Like most PBOT employees, he is a very good person.
If Hoyt-McBeth's talents were different, Portland might already have a bike share system. He is not a salesman. And though it wasn't exactly his job to sell a Portland Bike Share sponsorship over the last four years, it wasn't exactly not his job either.
As many Portlanders know, he hasn't found a sponsor. Nobody has.
Here's what Hoyt-McBeth has spent the last four years doing instead of overseeing a bike share system: he's become one of the country's leading bike share wonks.
Here's what Hoyt-McBeth has spent the last four years doing instead: becoming one of the country's leading bike share wonks.
He sits on the founding board of the North American Bikeshare Association, which is pretty odd since Portland doesn't have a bike share system. He follows the smattering of blogs about the industry. He's on the phone regularly with operators around the country. He can rattle off the station counts and price structures of cities you didn't know had a bike-sharing system yet.
Not pleased that your city paid this guy approximately half of an $86,000 salary for several years to acquire this expertise? Too bad, it already did.
The point is that because Hoyt-McBeth spent so much time learning this stuff, Portland had a chance to reboot its bike share plan under the direction of somebody who may know more about public bike sharing than any public employee ever has in the early stages of a bike share system concept.
This meant that when Hoyt-McBeth was joined, in 2013 and 2014, by a boss (Active Transportation Manager Margi Bradway) who happened to be an experienced contract negotiator and by a great-grandboss (Transportation Director Leah Treat) who happened to be a strong bike-sharing believer, Portland had a chance to do something unusual. Late last fall, that team went to the country's largest bike sharing company, Motivate Inc., and laid out a very specific and unusual vision for the bike sharing system that Hoyt-McBeth thought would be right for Portland. Then the Portland team told Motivate, essentially, "Take it or leave it."
Motivate took it.
Portland Active Transportation Manager Margi Bradway, right, with PBOT Planning Manager Art Pearce last fall.
Fully understanding Portland's new bike share proposal means understanding the concept that Bradway, Hoyt-McBeth and Treat successfully pitched to Motivate CEO Jay Walder when he flew to Portland last fall, in his first several weeks on the job.
Some of these details were hammered out over the months that followed. But here's how it's all supposed to work.
It turns Portland's single most unusual infrastructure asset – ubiquitous bike parking – into lower costs
One of the central city's 52 bike corrals, at SW 3rd and Pine.
Portland's bike infrastructure has fallen behind other cities in various ways over the last few years. But it still does one thing better than any other North American city: bike parking.
On the sidewalks and curbs of the eight-square-mile area where Portland's bike share system is supposed to begin operation, the city has already installed more than 3,000 public bike racks. Yes, that's more than 6,000 bike parking spaces.
This is a huge contrast to a city like New York, where scarce bike parking is actually one of the biggest barriers to bike ownership. A major factor behind Citi Bike's success there: the bikes arrived with their own parking spaces.
Portland's ubiquitous bike staples are useless to a "smart-dock" system like Citi Bike, which allows its bikes to park only in the special slots of its docks. But when Social Bicycles and other "smart-bike" systems started emerging, Hoyt-McBeth realized that they could be a perfect fit for Portland's plentiful bike parking.
The reason is obscure but fascinating: the achilles heel of a "smart-dock" system like Citi Bike is that its most popular docks regularly run out of parking spaces. To prevent this from happening, most bike sharing systems hire people to drive around in vans, constantly monitoring bike-share stations that are nearly full and moving bikes to stations that are nearly empty. This work, called "rebalancing," adds up to between 30 and 60 percent of the entire cost of operating a smart-dock bike sharing system.
Social Bicycles' smart-bike system has docks, just like the smart-dock systems do. The difference is that they look like this: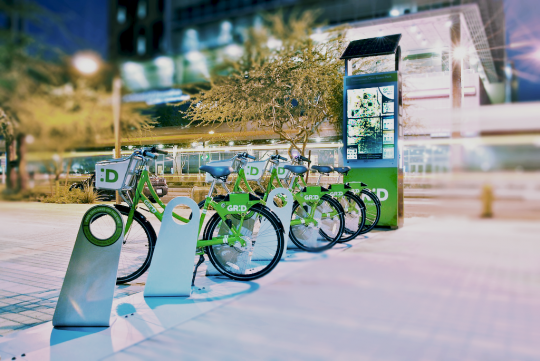 (Photo: Social Bicycles)
These "dumb" docks can run out of room, too. But in Portland, there'll almost always be bike parking nearby to handle any spillover. The only change required is that Portland's behind-the-scenes software will need to recognize a bike as being "at a dock" if it's parked anywhere on the same block face.
If this is the case, Hoyt-McBeth and Motivate estimate that they can eliminate half of the system's rebalancing needs.
Though other problems might get in the way — nobody's quite sure yet — that could be a big cost savings. Which is a big part of the new bike share system's next feature…
Its pricing is customized for the "interested but concerned"
For its heaviest users, Portland's bike share system won't be cheap. Annual memberships will cost something between $120 and $180. That's well above the current industry range of $75 to $150, though Portland's would be broken into gentle monthly installments of somewhere between $10 and $14.95. (The annual memberships will also be fairly generous, offering an allowance of 90 free minutes every day.)
Portland's system will be among the cheapest for one group of users: people who are using it for the very first time.
In other major U.S. systems, you can't start using a bike sharing system without coughing up $7 or $8 for a "24-hour membership," which usually comes with unlimited rides of 30 to 45 minutes or less.
This price structure was designed for tourists, but Hoyt-McBeth said there's now wide consensus that it's off-putting to new users.
"Everyone in the industry has kind of recognized that the existing pricing model is a bit opaque and hard to understand," he said. "In talking to the marketing professionals, they talk about how they spend half of their time with the public just explaining pricing."
This year, Milwaukee's bike share system scrapped its $7 daypass in favor of a $3 per ride fee.
Hoyt-McBeth's goal is to maximize bike share's attractiveness to the one group of people that bike sharing is supposed to be for in the first place: not tourists (who aren't a meaningful source of car traffic) and not people interested in daily commuting (who probably own a bike already if they live in Portland). It's the group of potential bikers that Portland has, since 2006, been calling the "interested but concerned."
"We know where we need to go if we need to grow biking in the city, and that is that we need to get the interested but concerned to give it a try," Hoyt-McBeth said Friday. In an email, he added: "Most US bike share systems are designed for two main user groups: tourists and daily commuters. But that's not who Portland actually wants to reach with a bike sharing system — it wants to reach residents who aren't yet commuting daily. The $2.50-a-ride and $14.95-a-month-with-contract pricing structure is designed to appeal to the IBC."
It will get to steal the country's best ideas for making bike share accessible
In Washington D.C., only 3 percent of Capital Bikeshare's annual members are black. In Salt Lake City, people who make less than $10,000 a year are 12 percent of the population but 0 percent of bike share members. For other low-income and marginalized racial groups, the numbers are little better for any system in the country.
Generally speaking, U.S. bike share systems are failing to serve the people they could be helping the most: people who can't afford a car, a transit pass, or a bike of their own.
This will be an uphill fight in Portland, too. But thanks to its three-year delay, Portland will be able to draw on two other systems, Philadelphia and Boston, that have had quite a bit of success making bike share useful and attractive to people in low-income and minority groups.
One month after its April 22 launch, Philadelphia's Indego was selling 5 to 10 memberships a day through an all-cash system.
Like Philadelphia, Hoyt-McBeth said, Portland aims to offer a system that lets people buy a bike-share membership without a credit or debit card. (12 percent of the U.S. population doesn't have one.) Philly's Indego system partners with PayNearMe, a company that lets people generate a barcode, bring it to a 7-Eleven or Family Dollar via telephone or paper, and pay in cash there.
By one month after its April 22 launch, Hoyt-McBeth said, Indego was selling 5 to 10 memberships a day through this all-cash system.
"It's not the most elegant thing," he said. But "people are buying these memberships and they're using them. … Like in the first two weeks, the utilization of those memberships in terms of ride per membership was higher than their traditional member."
Another model is Boston, where the city's Hubway bike share has partnered with many groups to hand out 778 subsidized $5 memberships last year to low-income residents. Of people who bought cheap memberships, 49 percent renewed — almost as good as the 57 percent renewal rate for other annual members.
Motivate says it can't afford to go that cheap in Portland. It'll offer up to 500 subsidized annual memberships for $35 each. Hoyt-McBeth is pursuing grant funding to bring that price down and to pay for targeted marketing to people in cultural minority groups.
An innovative, untested plan
So, do you buy it?
If it doesn't work, you won't be as sorry as Hoyt-McBeth will be. He joked that he sometimes refers to himself as "Mr. Overhead" when it comes to bike share budgeting.
But Hoyt-McBeth and Bradway both seem confident that they've found a winning formula. And they make a powerful case that they're right.
"I think a lot of your readers are frustrated that we don't have bike share yet," Hoyt-McBeth said Friday. "We share the eagerness to get bike share on the ground. … I think what we've gained from this is a better system that's more equitable and something that Portland can really be proud of."