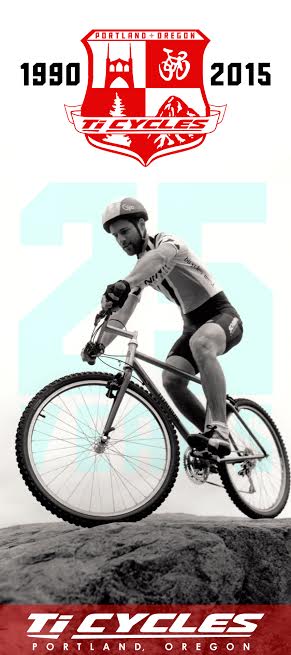 Portland is home to a legendary bicycle fabricator named Dave Levy. Dave has been doing amazing things with titanium under the Ti Cycles moniker since 1990. He started in Seattle then moved to the hills northwest of Portland in 2002 where his shop has been ever since.
This Friday night (8/28) Dave will share a special collection of his bikes and components from the last three decades in a retrospective show hosted by Velo Cult. If you love bikes and want to learn more about one of the greatest, most creative, fearless, and approachable guys in the world of bike making, you should not miss this event.
Check out a few more photos and an official press release about the 25 Year Retrospective event below…
Ti Cycles Fabrication 25 Year Retrospective @ Velo Cult // Friday Aug 28th 6-10pm

Please join us from 6-10pm on Friday, August 28th, for a look back at 25 Years of Ti Cycles with a special collection of bikes and components from 1990 to today, hosted by the world famous Velo Cult (1969 NE 42nd Ave, Portland OR 97213). This event is free and open to the public.

In 1990, after several years as a framebuilder, fitter and fabricator at the venerable R&E Cycles in Seattle, Dave Levy set up his own shop at 824 Post Avenue under the Ti Cycles flag.

A few years later the Ti Cycles shop moved to 9243 NE Blakeley Street, along the Burke Gilman Trail in Seattle's University District, where it became known as an "oasis" of cycling knowledge to locals and out of towners alike.

In 2002 Dave moved himself and his frame building operations down to Portland, keeping the Ti Cycles retail location open for several years before turning the storied green building on Blakeley (now red) over to the fine folks at Counterbalance Bicycles, which remains in operation today.

Over the past quarter century Dave has built virtually every iteration of the cycling apparatus for literally every type of rider. From unicycles to tandems, track bikes to full suspension fat bikes, mini velos to cargo bikes, Dave has applied an unparalleled skill set of bicycling knowledge and fabrication know-how to the wheeled world.

(At one point in 2014 Dave was working on both a Victor Victoria tandem from the 1880s and a 3D printed titanium concept bike for a design competition.)

Along with his work at Ti Cycles and Cedar Ridge Fabrication (making high performance motorsports parts) and as co-owner of REN Cycles, Dave Levy has served as the President of the Oregon Bicycle Constructors Association, as a consultant to dozens of bicycle and automotive equipment manufacturers in the US and abroad, as mentor to numerous student design groups (such as the University of Oregon's award winning Oregon Manifest team), and as a cycling coach, fit expert, and sponsor for countless local, regional, and international athletes.

In addition to earning World and US National Masters Championship stripes in disciplines as diverse as Cyclocross and Keirin Track racing, Dave's frames, forks and other components have performed at the highest levels of competition, from Paris-Brest-Paris and bike touring the jungles of Southeast Asia, to top finishes at the Tour D'Afrique, Tour Divide, Sea Otter Classic, US Olympic Trials, and Paralympic games. His bikes have won multiple awards at the North American Handmade Bike Show, been featured in numerous books and "Dream Bike" anthologies, and given customers and racers thousands of miles and countless smiles.

At the event this Friday there will be a range of bikes and bits from the past 25 years; visitors will see everything from bikes equipped with Softride parts, Scott-Mathauser rim brakes, Hayes mount disc brakes and a 1990s attempt at belt drive, to modern lightweight steel Di2 road bikes and Bluetooth-enabled Smart E-bikes.

All are invited to attend. Owners of bikes designed and/or built by Dave (Ti Cycles, REN Cycles, Hampsten Cycles, Rodriguez Cycles, Hi5 Bikes, etc) are encouraged to ride their bikes to Velo Cult.