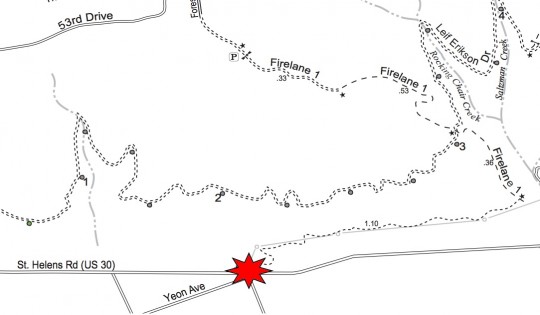 Red star is approximate location of future Forest Park main entrance and parking lot.
Thanks to a $1.5 million gift secured by this legislative session by State Representative Mitch Greenlick, the Portland Parks & Recreation bureau announced today they've begun the planning for an official entrance to Forest Park.
5,200 acre Forest Park is a gem. As urban greenspaces go it's almost without compare in America. But for all its use and popularity, it doesn't have an official front door. Instead, it has a half-dozen or so trailheads with very little in the way of amenities or interpretive facilities.
According to the Parks Bureau, this new project will include a nature center, an ADA accessible trail, and a parking lot (which Parks says will be big enough for schools buses so local kids can take field trips to the park). The location for the entrance will be just off Highway 30 at near the intersection of Yeon and Kittridge (about 3.5 miles northwest of NW 9th and Lovejoy). Parks purchased the lots, former brownfield sites that are now cleaned up, using Metro bond levy funds from measures passed in 2005 and 2014.
With an additional $800,000 into the project from Parks System Development Charges (SDCs), Parks can now move forward with surveying, site planning, engineering, permitting, and so on.
Any project that aims to improve access to Forest Park is worthy of our attention. Especially if you are interested in bicycling access.
This new entrance will be built right next to Firelane 1, which is legal for cycling. I've never ridden it, but my experience in Forest Park makes me think it's probably not beginner friendly. A look at the Forest Park bike map tells us that Firelane 1 takes about 1.4 miles to rise 500 feet before it reaches Leif Erikson Road (the popular bicycling road that runs north-south through the park). That's a steep climb that's not feasible for most Portlanders.
Elevation profile of Firelane 1 from Forest Park Biking Map.
Makes me wonder: Will Parks use this project as an opportunity to make Forest Park more bike-friendly for a wider range of users?
Let's look back at the the 1995 Forest Park Natural Resources Management Plan (an official and still binding plan adopted by City Council) for some context. When I talked to a Parks planner about the project today, she referred me to the plan as the official document that will help guide construction of the new trailhead.
That plan called out this project as a "high" priority. Here's what it says (emphases mine):
"Develop regional trailhead with parking for 20 cars, drinking fountain, and seasonal restrooms. Built multi-use trail up to Leif Erikson and Fire Lane 1 — to handicap standards, if possible. Pedestrians will continue on Leif Erikson and cyclists will continue on Fire Lane 1.

Arrange for possible use of old fire station or construct new building for use by organized events — runs, walks, bike events, etc. Study use of shuttle bus service from new parking area to other park access points. Service could be for small fee with buses capable of carrying bicycles."
Judging by that text, I'd say bicycling advocates should pay very close attention to the upcoming planning process that will kick off in the coming months.
The Parks planner I spoke with today confirmed that the new ADA accessible trail is definitely still in the plans — although she didn't say anything specific about accessibility improvements for park users on bicycles. If new trails designs are being built and funded, why not built one that's open to bicycling all the way up to Leif Erikson?
Stay tuned. Parks will hold a public process to get input on design of this project. Current estimates are that planning will take up to two years and construction could start in 2017.
If you have questions or feedback about this site or my work, feel free to contact me at @jonathan_maus on Twitter, via email at maus.jonathan@gmail.com, or phone/text at 503-706-8804. Also, if you read and appreciate this site, please become a supporter.