Vision Zero Vigil with Families for Safe Streets (Union Square)
by
Streetfilms
Did America just have its "kindermoord" moment?
Last night in New York City 1,000 people gathered for what's being called the largest rally for street safety and vision zero in U.S. history. We followed it online and saw an inspiring scene: A sea of yellow shirts; a gurney adorned with 23,463 yellow flowers — one for each injury that has happened on New York City streets so far this year; and a diverse group of people from every social, ethic and cultural background.
Here are a few of the voices that addressed the crowd (taken from the Streetfilms video):
"This is our city, This is happening on our streets. It is our collective responsibility to come together and eliminate so much unneccessary and preventable suffering. Let's refer to the incidents that cause this silent epidemic as crashes, not accidents." – Amy Cohen, Families for Safe Streets.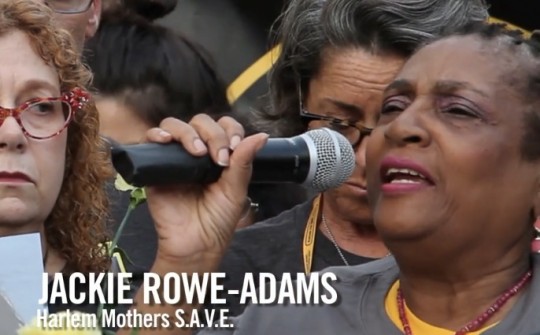 "We share the same pain. We share the same hurt. Enough is enough! Enough is enough!" – Jackie Rowe-Adams, Harlem Mothers S.A.V.E.
"Do we want to live in a city, where even when we are perfect pedestrians or cyclists, cars can still injure, maim or kill without consequence? I, for one, do not." – Cara Cancelmo, Families for Safe Streets.
Transportation Alternatives, the advocacy group that helped organize this event and who has been behind much of New York City's safe streets movement, is focused on one clear call to action. They want everyone to stop using the word "accident" and replace it with "crash". They've set up an online pledge form in hopes of getting 20,000 signatures. Words are powerful and they often shape political dynamics and public discourse.
Our friend Doug Gordon of Brooklyn Spoke shared this tweet during the event:
https://twitter.com/BrooklynSpoke/status/621107565594845184/video/1
The only thing I'd say differently is "Pay attention, America. This is a movement."