All three on their way to Portland.
One fringe benefit of living in a town where so many people love cycling is that we are fortunate to be a common stop for authors, thinkers, innovators, and other cycling luminaries. If you have something important or interesting to say about cycling, the thinking goes, there's a very good chance you'll find a receptive audience in Portland.
Over the course of the coming week we'll be treated to a trio of intriguing figures who will share their insights and knowledge with our many bike-curious denizens…
Mr. Rivendell
It all starts tomorrow (6/20) when Grant Petersen stops in to fête Rivelo, a new bike shop in southeast Portland. Petersen is the founder of Rivendell Bicycle Works who started Rivendell in the mid '90s after a stint with Bridgestone. While far from a juggernaut in a financial sense, Rivendell has become a beloved brand for its honest marketing and products that manage to balance a respect for tradition (in both an aesthetic and technical sense) with innovation — but only when and where it's needed. Petersen is also the author of Just Ride (2012, Workman Publishing) a book whose title embodies his approach to cycling.
Meet Petersen and hear him give a short talk and product demo at around 2:30 pm tomorrow (Saturday) at Rivelo, 401 SE Caruthers, Suite 403. Come at 2:00 for snacks, drinks, and bike ogling. — RiveloPDX.com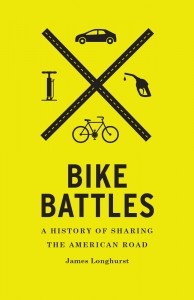 On Tuesday (6/23) historian James Longhurst rolls into town. Literally. Longhurst is on a biking book tour for his latest work, Bike Battles: A History of Sharing the American Road (2015, University of Washington Press). Longhurst, an associate professor at the University of Wisconsin – La Crosse with a Ph.D. in history and policy from Carnegie Mellon University, says the book is, "An exploration of the hidden history of bicycle law and policy conflicts in the United States, bringing scholarly research into our current bicycle debates through archival sources and popular culture."
Join Longhurst for lunch at a talk he'll give (in partnership with the Bicycle Transportation Alliance) at 12:00 noon on June 23rd at the Oregon Historical Society. — Event info on Facebook
Keeping with the historical theme, veteran bicycle journalist Carlton Reid will be in Portland on June 28th to share insights from his new book, Roads Were Not Built For Cars: How Cyclists Were the First to Push for Good Roads and Became the Pioneers of Motoring (2014, Island Press). Reid, who I first got to know as the editor of Bike Biz, a U.K.-based industry publication, spent four years researching his new book. The very impressive result is a thorough examination of an important part of transportation history that most people are completely unaware of. Not only is this forgotten story interesting in its own right, it also flips the script about who "owns the road" and helps make a powerful case for bicycle advocacy in America.
Reid will host a free event at Velo Cult (1969 NE 42nd Ave) on June 28th at 7:00 pm. — RoadsWereNotBuiltForCars.com.