(Photo J. Maus/BikePortland.org)
Sorry for not warning you sooner but a portion of Leif Erikson, the main road for bicycling in Forest Park, is closed through the end of this week.
The closure is due to a City of Portland project to replace several culverts between mileposts 8.0 and 9.0. Since the road is completely closed, bicycle riders must detour around it. Portland Parks & Recreation is recommending two different detour routes. The shorter detour (1.9 miles) includes a very steep uphill/downhill where Parks recommends walking your bike for 1.2 miles. The other detour is five miles long and puts you on Highway 30.
Here are the maps (provided by PP&R):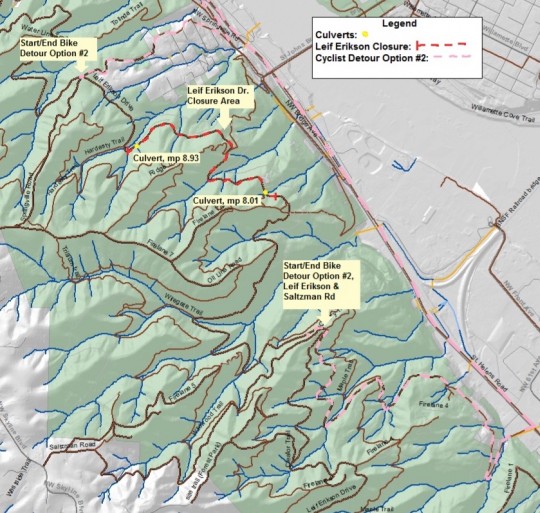 And here's the text description:
Option 1: Please WALK your bike up Firelane 7A to Firelane 7—CAUTION: STEEP SLOPE. Turn right, continuing to walk your bike, on Firelane 7 to Springville Rd, which is open to bikes. RIDE down Springville Rd to return to Leif Erikson. (Walk: 1.2 mi; ride: 0.7 mi. Total: 1.9 miles)

Option 2: Take NW Saltzman Rd. 1.25 miles to Hwy 30/NW St Helens Rd. Take NW St Helens Rd. 2 miles north to NW Bridge Ave. Turn left on NW Bridge Ave. Turn right on NW Springville Rd. Continue up NW Springville Rd. 0.5 miles to the park gate. Continue up Springville Rd to Leif Erikson. (Within Forest Park: 1.6 mi; outside Forest Park: 3.4 mi. Total: 5 miles)
"We recognize that Leif Erikson is a popular and widely used trail for multiple user groups and this may be an inconvenience for many," PP&R said in a statement, "However, it also serves as the primary north-south emergency access route in the park; we hope these improvements will serve the park's users and wildlife well into the future."
— Download a PDF version of the above maps and detour notice.