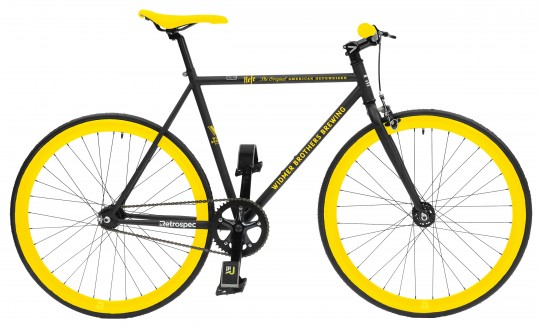 Widmer's commemorative bike designed in the spirit of their flagship Hefe beer.
Portland-based Widmer Brothers Brewing has long been a bicycling believer. Now they plan to celebrate their most popular beer by giving away 100 bicycles in 100 days starting with a kickoff event tonight in southwest Portland.
Widmer will raffle off a custom-designed singlespeed "city cruiser" (above) at each event as a benefit for the Bicycle Transportation Alliance. Widmer says their goal is to raise at least $100 per event and donate a total of $10,000 to the BTA by the end of the summer.
According to Widmer, the bike was custom made by Retrospec Bicycles. It is based on their "Mantra" model and comes with a fixed/free flip-flop rear hub.
Widmer's "100 Days of Hefe" will stop at pubs and events throughout the Portland region where brewery staff and company founders Kurt and Rob Widmer will be on hand to share pints with their fans.
In a statement, Rob Widmer said they decided to partner with the BTA because, "It's a cause we have supported for a long time." Widmer also added that, "I bike to work almost every day, and really admire the work the BTA does to encourage safe and accessible cycling in Oregon. We think this is a great way to promote Hefe, the BTA, and cycling in Portland."
100 Days of Hefe kicks off tonight at 3:00 pm at Dublin Pub (6821 SW Beaverton-Hillsdale Hwy), the birthplace of Hefe beer in 1986.