Justin Wiley, Social Bicycles' VP of Launch
and Operations, at Velo Cult in
Northeast Portland last week.
(Photo: Lizbon Grav)
Social Bicycles, maybe the country's fastest-growing bike sharing company right now, sent one of its top executives on a swing through Portland last weekend.
SoBi, as it's sometimes known, has scored contracts to equip public bike sharing systems in Phoenix, Tampa, Topeka, Boise, Orlando, Ottawa, Hamilton and Santa Monica. The company's key innovation: "smart bikes" that can be parked anywhere inside a service zone, whether or not they're at a dock.
Like most business development trips, the visit wasn't publicized. But it certainly caught my attention last Friday when SoBi Vice President of Launch and Operations Justin Wiley walked into bike shop/bar Velo Cult with a SoBi bike.
"We are spending a lot of time on the road this year meeting with partners and potential clients to demo the product," Ryan Rzepecki, CEO of the the New York-based bike sharing company, explained Thursday. "Recently, we made a quick visit to Portland to meet with a transportation planning consultant and a large employer that is interested in a private bike share."
That's all Rzepecki could say about the trip. But with so much going on right now in the world of bike sharing — as you might have noticed, this is our second post on the subject today — it's a good opportunity for a recap.
– From Intel to Nike to Google to General Motors, private companies are putting money into bike share systems for the same reason local governments are: it's a very-low-cost, low-impact, space-efficient way for people to get around an area.
– The bike share industry continues to evolve, thanks to falling technology prices, constantly rising rates of smartphone ownership and the spread of RFID technology that can let people make purchases simply by waving a card or keyfob. SoBi's bikes are comparable in cost to others (competitors' models cost $1,103 as of 2012), but SoBi's system is far cheaper because it doesn't require sophisticated electronics on its many solar-powered docks. Phoenix predicts its 500-bike system Grid Bikes is actually going to turn a profit eventually. (SoBi's initiatives have't always succeeded; Hoboken, N.J., pulled the plug on a SoBi system in 2013 after it carried only 3,000 trips in six months.)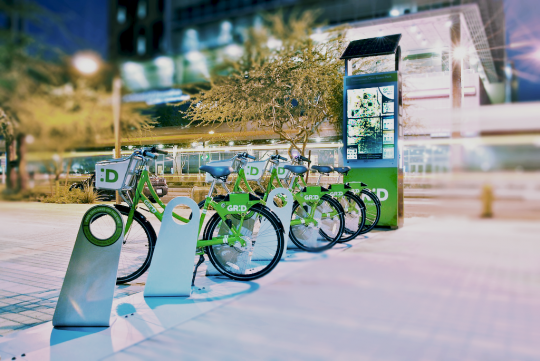 Grid Bikes in Phoenix keeps the most complicated technology on the bikes rather than on the docks.
(Photo: Social Bicycles)
– The sale of Portland-based Alta Bicycle Share to the New York-based company now using the brand name Motivate has given the City of Portland a chance to reset the conversation around its long-planned, half-funded bike sharing system. Transportation Director Leah Treat declared in December that setting a launch date for Portland Bike Share was one of her top four goals for 2015. That could happen under the terms of the existing contract with Motivate, or (if the city opts to terminate the contract before it expires naturally in 2017) there's a chance it could happen under a new company. (It's worth emphasizing that we don't have any reason to think that last thing is already happening.)
– Or maybe the City of Portland will never launch a publicly funded system, and for better or worse, like we reported this morning, the private sector will figure out how to do the whole thing itself.