Posted by Jonathan Maus (Publisher/Editor) on February 23rd, 2015 at 12:33 pm
The full line-up from ZEN Bike Co.
Zen Bicycle Fabrication, a bike frame manufacturer based in north Portland, has launched an in-house brand of bicycles under the Zen Bike Co. label.
Zen launched back in October 2011 and has found a niche for themselves by making production runs of frames for many other brands.
The new Zen Bike line includes five models, which come as frame/fork options so customers can order them online and build them up part-by-part. Scroll down for more photos and info on each model and the official press release…
PORTLAND OEM FRAME MANUFACTURER INTRODUCES OWN BRAND

Portland, Oregon – February 21, 2015 –ZEN Bicycle Fabrication introduces a new self-owned brand, ZEN Bike Co., featuring a lineup of high-quality, US-built frames.

For the past four years, ZEN Bicycle Fabrication has been producing OEM frames for some of the country's most notable brands. Now, owner David Woronets wants to do more. With over 22 years of industry experience, David feels it is the time to launch ZEN Bike Co. while still offering quality OEM frame manufacturing at ZEN Bike Fab.

"At ZEN, we love to build frames and ride what we build. Now we have the opportunity to design our own frames and share them with riders everywhere" says David Woronets, President.

ZEN Bike Co. will offer purpose-built, feature-driven frames that will be available both direct-to-consumer and through select dealers. ZEN will initially launch to market in five distinct frame categories, arriving June 2015. All of ZEN's frames will be represented at NAHBS 2015, booth 411, on March 7, 2015. For more information on the new company or unique frame spec sheets, please contact David.
AR45 – $1,399 (frame and fork)
The AR45 stands for All Road w/45mm tire clearance. The AR45 is built using oversize US made True Temper steel tubing and a machined chainstay yoke to add massive tire clearance without having to lengthen the chainstays. The result is a fast accelerating, do it all frame that's at home in multiple categories. Other features include; Zen MOD insert dropouts (allowing for multiple axle configurations), 44mm tapered fork compatible headtube, stealth rear rack mounts, fender mounts, full cable housing routing & 3rd bottle mount. In the world of do-it-all gravel/monster cross/commuter frames the AR45 can be your weapon of choice.
Cross – $1,699 (frame and fork)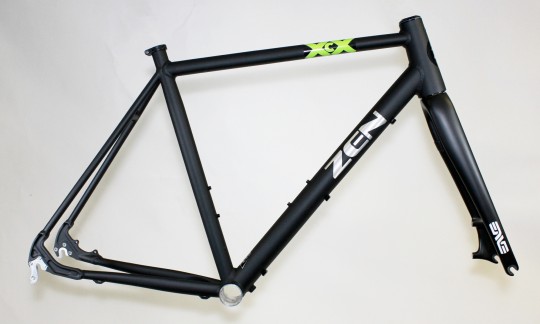 The Zen Cross frame is a no-compromise cyclocross race frame. It starts with a custom 6061 aluminum tubeset and finishes at a 1380gram podium grabbing weight. Need a tapered headtube, oval toptube, PF30 , Internal Di2 routing (optional) , full housing , multi axle option, disk brake frame? The Zen Cross is it. The finish is a unique micro texture powdercoat which saves weight and is extremely durable to abrasion. Cross is about suffering, but your frame choice shouldn't add to it. The CROSS frame includes a Cane Creek headset and carbon fiber Enve Disc Road fork.
EXP – $1,250 (frame and fork)
This frame puts the "EXP" in expedition. The EXP was designed to transport you to the back county with a lightweight feature driven design. This 29er frame also allows the use of the new generation of 27.5+ tires (up to 3.25) which float over rocks with a suspension-like ride. The EXP is built from custom 6061 aluminum which allowed us to shed pounds in the frame (and allows you to carry campfire beverages guilt free). The raw aluminum finish is also corrosion resistant, so you don't have to worry about worrisome rust spots. We collaborated with J-PAKS, a Colorado based custom bag maker when designing the EXP. This partnership resulted in flattened tube shapes that hold the bag shape open and strategically placed 5mm inserts that allow bag makers to use less straps. Zen MOD dropouts (allowing for multiple axle configurations), full housing routing (including dropper post routing), 3rd bottle mount and rear rack mounts finish out the design. The outdoors is calling and the EXP is ready to transport you there.
Road – $1,799 (frame and fork)
The Zen Road frame and Enve fork packs modern features into high end steel construction that delivers a one of a kind ride experience. The frame starts with a premium Columbus HSS Sprit tubeset. With massive shaped tubes, Sprit HSS tubeset looks and performs far superior to steel frames of the past. The tapered headtube, 44mm downtube, oversize chainstays, and PF30 BB translates into pure acceleration when you need it. Modern features include internal Di2 routing (optional) Zen MOD insert dropouts (allowing for multiple axle configurations), chainstay mounted disk brakes (with internal routing) and 28mm tire compatibility .At 1700g (56cm) this is not your grandfathers steel bike. The Zen Road frame will carve up miles and miles of road while standing out from the sea of carbon options. The Road frame includes a Cane Creek headset and carbon fiber Enve Disc Road fork.
Trail – $1,299 (frame and fork)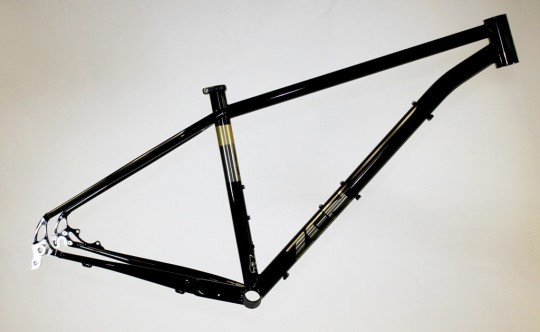 The Zen Trail 29er frame was built with two things in mind, fun and durability. The Zen Trail frame includes modern geometry and features without compromising the exceptional ride quality of a steel hardtail frame. Features include 44mm tapered fork compatible headtube, 30.9 seatube, Stealth dropped routing (optional) Zen MOD insert dropouts (allowing for multiple axle configurations) and full housing routing. Just because you want the ride quality of a steel trail bike doesn't mean you have to be left in the past.