Last week we shared the unfortunate story of new bike parking at the U.S. Bancorp Tower. It's unfortunate because — despite a brand new, million dollar plaza renovation — whoever installed the bike racks got it completely wrong (we're still waiting to hear back from the architecture firm that led the project).
That story had us checking the City of Portland code to see if the new Bancorp Tower racks were in compliance (they appear to violate at least one Administrative Rule). On a similar note, a few weeks back we heard from reader and former City of Vancouver (WA) transportation planner Todd Boulanger. Boulanger cc'd us on an email to Sarah Figliozzi, a bicycle program specialist at PBOT.
His emailed contained that photo above and this message:
"This is one of the examples of bike parking in a commercial zone changing for the worst over time. This is the Home Depot at Jantzen Beach. They used to have a crappy wave rack, but they removed it for an outdoor display. There was no rack for a long time then this wheel bender toast rack appeared… This commercial area's management group [it's a big box shopping center] also removed all of the bike lockers and put up wave racks a couple of years ago."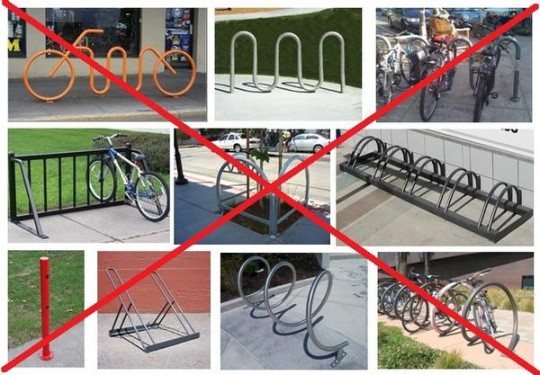 "Examples of generally UNACCEPTABLE Bicycle Rack Types" says PBOT.
Turns out that "wheel bender toast rack" is considered by PBOT to be "generally UNACCEPTABLE" as per their published guidelines. And "wave racks" don't meet city code due to the 2-foot by 6-foot spatial requirement.
Figliozzi reported Boulanger's concern to the Portland Bureau of Development Services (who deals with commercial permitting). Turns out, anyone can report a potential code violation by calling (503) 823-CODE (2633) or by using the BDS online form.
In the case of Home Depot, BDS inspectors checked to see when the building was constructed and/or significantly remodeled (above $148,700 in total project costs). Those dates would determine what they are required to include as per city bike parking guidelines.
About one month later, Figliozzi emailed Boulanger with news that BDS inspectors indeed found Home Depot in violation of Portland's bike parking requirements. The company was given notice of the violation and Figliozzi says they'll now be required to bring their short-term parking up to current standards. And a "wheel bender toast rack" is not sufficient.
Here's Figliozzi, explaining Home Depot's violation and what they must do to fix it:
"The permit for this Home Depot goes back to 1995 – that means the requirement at that time likely did not even distinguish between short or long term bicycle parking. However since they had removed the rack they are in violation of the permit. In order to correct the violation they must, within 30 days, obtain a zoning permit to replace the rack or obtain an approved adjustment review (if they are requesting to not meet code). They will incur a fee if they do not correct the violation within the allotted time."
Let's review what we've learned so far:
Add 823-CODE to your volunteer activist speed-dial (or use the online form) and let BDS know when you suspect a business is in violation of bike parking rules.
The year to remember is 1998. Prior to that, Portland had a much lower standard for bike parking and building owners can get grandfathered in (unless they did a major renovation that triggered a new permit).
Not all use of racks on the city's "unacceptable" list will result in a violation. Any racks installed on-site, above and beyond the requirements of the permit, do not need to meet city standards.
The bigger picture here is to make sure City of Portland bike parking policy is always getting tougher and better. That's why we hosted a Wonk Night focused on that topic last fall.
It's neat to see the city working like this. Of course it took a smart and connected member of the public to trigger the action, but at least we have these reporting tools at our disposal.