Publisher's note: "What do you think?" is a new series we're trying out where we gauge your opinion and ask for feedback on a specific topic. Think of it as our version of those ridiculous and annoying reader polls you see on other sites so often. — Jonathan
—
It seems innocent enough: When days get shorter and people are commuting in the dark, transportation agencies will often encourage people to wear bright-colored and reflective clothing, use lights, and so on. That might sound like important, common sense information to some of you; but to others it's a cringe-worthy offense. To them it's a form of victim blaming that actually results in ever more dangerous streets.
This week, both TriMet and the Portland Bureau of Transportation promoted high-visibility cycling.
TriMet did it as part of their annual "Be Seen. Be Safe." campaign. I got an email yesterday asking me to enter a contest to win a "bike visibility kit". The $135 kit includes a flourescent yellow helmet cover, a reflective safety patch, hi-vis gloves, and a rear light. "Make yourself visible to drivers and cyclists around you!" the promotion urged.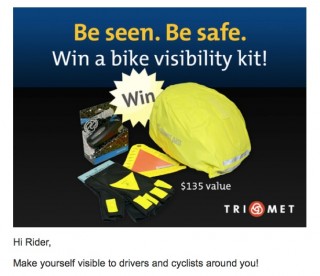 Then PBOT's Active Transportation Division got into the act with this tweet
https://twitter.com/PBOTactive/status/543442021818454016
… which was quickly followed by a number of negative responses from their followers…
I agree that it's a good idea to remind folks to be as visible as possible while riding. And I don't think these critics would have any trouble with a general message like that. What gets their dander up is the added suggestion that to conform to expected norms you need to dress like a traffic cone.
After all, in places with very good bicycle safety and high rates of bicycle use, like Copenhagen, people don't wear high-vis gear. Check out the image below, which shows randomly selected riders from Copenhagen and Portland. Can you tell which is which?
(Photos by J. Maus/BikePortland)
Like the Helmet Debate, this is an issue where people tend to be passionately entrenched on one side or the other.
What do you think? Should we encourage agencies to tone down these types of messages — or stop them altogether? Or is high-visibility gear so important to people's safety that it should be promoted whenever and however possible?