If there was any question that "Rudolph the Red-Nosed Reindeer" is a TV movie for the ages, the number of generations who joined Saturday night's mobile singalong should put it to rest.
"I've been watching it every year since I was a kid," said Tom Howe, the ride's leader. "The music is timeless."
Ride leader Tom Howe.
Howe rigged up a small flat-screen TV on a trailer to tow behind his bike and set up at various waypoints around downtown Portland, including the OHSU/PSU Collaborative Sciences Building, the South Park Blocks, Director Park and Waterfront Park. At each stop, ridegoers watched a section of the 1964 holiday special and (reading from lyrics books that Howe had distributed) sang along to "Holly Jolly Christmas," "We're A Couple Of Misfits" and other songs from the show.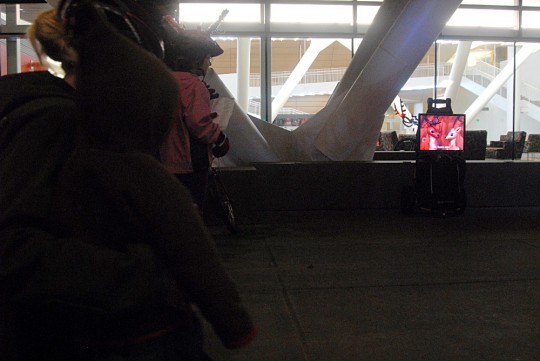 It was one of the rides in this year's Puddlecycle, the urban winter bike-fun series organized by Tom McTighe. McTighe's collaborator Howe is organizing Puddlecycle's December rides this year; next week he'll lead a trip to "Hidden Gems of the Springwater." The week after that, it's "Riders to the Stars," a trip from IKEA in Northeast Portland across the Interstate 205 bridge to a spectacular multi-house computer-animated Christmas light display in Vancouver.
Howe said he'd been inspired to lead Saturday's ride by the success, during PedalPalooza last June, of a similar Sound of Music sing-along.
Many of the several dozen people who joined Saturday's ride came in costume. Eric Iverson was proud to note that most of his wardrobe had come from Goodwill:
That included a light-up snowman sweater and the Rudolph stuffed animal, complete with glowing nose, that he'd added to his bike:
Jenny Fosmire was in full Claus regalia and rode a bike lined with a red wreath and boas.
"Oh, that's not even the festive bike," she said. "That's the backup."
Dave Cockrell was one of several who had rigged up his own glowing nose for the event:
Sarah Grenwis (who was celebrating her birthday by joining the ride) wore an elf's hat:
As the crowd belted out "Silver and Gold" in Director Park, Carlton Rounds was one of a group of middle-aged men who walked up to watch and listen for a few minutes.
"This is an allegory for Portland," said Rounds, who said he'd been lured over by the voice of Burl Ives. "Because we're the Island of Misfit Toys!"
Richard Smith, 37, walked over with his two young boys from Elephant's Deli when they heard the music.
"We were up having dinner and we thought we'd come check it out," he said, marveling at the all-ages crowd of bike riders singing along to a television set in the middle of the public square. "I'm starting to piece together what's happening here."
Smith said he was definitely familiar with the movie and that his sons were "probably familiar with the music, if not the film."
After the stop in Director Park, Howe led people walking their bikes through the middle of Pioneer Courthouse Square, where participants at the Holiday Ale Festival were eager to share high-fives…
…and up 4th Avenue to Waterfront Park, where the group finished the movie with a singalong of the titular carol and a very dark group portrait beneath Portland's most famous seasonal visitor.
Though most of the crowd was well over 18, the oldest of three children to attend Saturday's ride was Bailey Keller, 14. He said he wasn't aware of the show but had been convinced by his parents to join because it was a "free movie."
Keller's parents were more enthusiastic.
"We've watched it our whole lives," said Cynthia Mohiddin, 46. "That and the Peanuts Christmas special."