I had a long conversation with this
man under the Burnside Bridge last week.
He's a bike theft suspect well-known
to the PPB.
(Photo J Maus/BikePortland)
Portlanders are rising up to fight the growing scourge of bike theft.
From the many sources I'm tracking, the Oregon Department of Transportation, the Portland Police Bureau, the Multnomah County District Attorney's office, the City of Portland Office of Neighborhood Involvement, business owners, and other agencies and community leaders are taking the bull by the horns.
And it's a big bull.
Through a mix of official enforcement actions and old-fashioned, grassroots neighborhood organizing both offline and through social media, bike thieves are coming up against a harsh reality: We are sick and tired of how out-of-control this problem has gotten and a feeling of "enough is enough!" has reached a boiling point in Portland.
After getting my bike stolen — and then taking it back — earlier this month, I've been learning as much as I can about the local bike theft scene. I've reached out to various players (including the alleged thieves themselves on one occasion) and have followed the issue closely. In the last few weeks I've noticed several separate actions taking place and figured it was time to share them here on the Front Page.
Here are some updates and ongoing efforts we're following:

A well known bike theft suspect (I know his face from a flyer with mug shots being passed around by PPB Central Precinct) told me last week that ODOT has cleared the encampment of people living under I-5 east of the floating portion of the Eastbank Esplanade and just north of the Burnside Bridge (where I recovered my bike). I met this guy (in photo, above) after he noticed me peeking under a tarp that covered a pile of bikes that were parked between I-5 and the Burnside Bridge stairway. (At first he was angry with me, but as we kept talking he calmed down and answered all my questions.)
———
I spoke with Deputy District Attorney Vivian Godsey (Lloyd District/North Precinct) last week. She has been in contact with ODOT, TriMet, and the PPB about the bike theft issue. She told me her office, "Will keep working on these issues and areas."
———
Bike shop owners play a big role in this equation. Molly Cameron, owner of Portland Bicycle Studio at NW Raleigh and 14th, works right in the heart of a place where there are a lot of bikes being handled by people who live on the street. Cameron updated friends on Facebook about her efforts:
"I'm in touch with and close with folks at ODOT, PPB and our neighbors and neighborhood group. The cops and ODOT have been very pro-active in the last 2 weeks which has been a relief. The chop shop underneath the Vaughn st. 405 on/off ramp in NW (and right under most of the freeway pillars in NW) was completely out of control."
———
Another shop in northwest Portland, Western Bikeworks, has also been actively working to stymie thieves. I've gotten a lot of information from a Western employee who is working closely with PPB Officer David Sanders (who I profiled a few weeks ago) and other bike shops in the area. The employee is aware of bike theft suspects and passes along everything she sees and knows to Officer Sanders.
———
Portland Parks & Recreation rangers are on the case. I ran into Rangers Kalivas and Williams one morning while snooping around the Esplanade and was happy to hear they are well-versed in the bike theft issue. Kalivas said more staff and resources are needed to address the problem.
———
A spokesperson for ODOT Region 1 told me that they manage 200 parcels in the Portland area and many of them are the sites of illegal camping. He said the agency is "Certainly going to get engaged on this issue."
———
Residents of Creston-Kenilworth have been using the neighborhood-based online social networking tool Nextdoor to tackle bike theft. Working in cahoots with PPB Neighborhood Response Team officers, there was an arrest made and a truck used to steal bikes in the neighborhood was recently impounded. Here's the recap just posted to Nextdoor: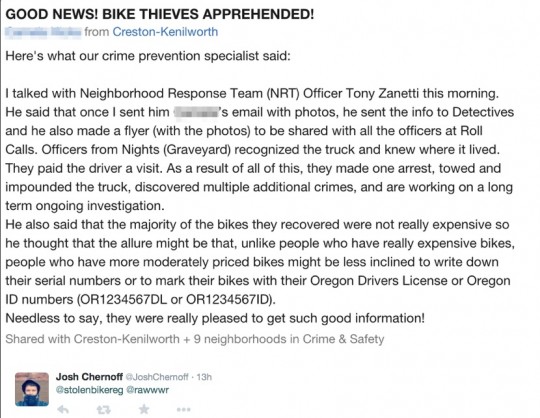 ———
Portlander John Howe regularly spotted what he thinks are "bike chop shops" during his rides through northwest Portland. On Wednesday he was delighted to see PPB officers "tearing into one of the tarps and pulling out bikes and parts." Later that day he saw a police car stopped at the location and chatted with the officer inside. According to a post by Howe on Facebook, "She [the officer] said they are gonna start doing more about bike theft and the "chop shops"!"
Howe's post started a comment thread and there's now a meeting being planned. Stay tuned for details once a date and location is set.
———
And last but not least is Roger Goldingay and his work in southeast Portland. Goldingay is the owner of the Cartlandia food cart pod on the Springwater Corridor path and SE 82nd (and the one on N Mississippi and Skidmore). He is tackling the bike theft issue on two fronts: By working with city agencies to clear out the growing number of illegal camps on the Springwater path and by putting together a separate effort to thwart bike theft and other residential property thefts in nearby neighborhoods. Goldingay has meetings for each issue on the calendar and has firmed up attendance by the Multnomah County DA's office, a property crime specialist at the PPB, Portland Parks & Recreation, the Office of Neighborhood Involvement, and others. We're planning to attend these meetings and report back.
All the above has come together just in the past two weeks, which shows me that Portland is rising up against this problem in the way we always tackle tough issues around here: Through a mix of citizen and agency-led activism, collaboration, and creativity.
Bike theft is a complicated problem whose tendrils reach into several other even more complex and sensitive social issues. It will take an all-hands-on-deck approach to make a significant dent. And as people get frustrated with the problem, it will be very important to remember that people's lives are more important than stolen bikes — even the people who many of us accuse of stealing. I've never been comfortable with the "Death to bike thieves!" mantra and I think we need to remember that people who live in these camps deserve our respect and often have no other place to go.
There's much more to come on this topic. We're following it all as closely as possible so stay tuned to the Front Page for announcement of a Bike Theft Summit and please keep sending in your updates and news tips so we can help connect all the dots.