The apartment building where the DeLaneys live was designed with lots of parking for small bikes but none for the sort that lets families with children live car-free.
(Photos: M.Andersen/BikePortland)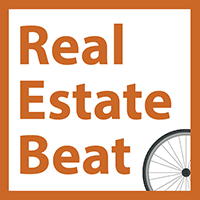 When their name came up this year on the waiting list for a rare below-market two-bedroom apartment in one of Williams Avenue's new apartment buildings, the DeLaney family was thrilled.
It had enough room for their growing family — Bijou, their second daughter, is four months old — and was a short walk to the 35 bus that carries Chris DeLaney to his job at the Bike Gallery in Lake Oswego.
But it lacked something else: a place to park the cargo bike that lets them avoid car ownership and thus afford to live where they do. So, after some negotiation, the DeLaneys are paying $40 a month to park their cargo bike in one of the building's auto parking spaces.
The standard price for a covered parking unit is $80 per space. But the space they use, right next to the garage exit, was already the building's least popular for cars, and the DeLaneys think that two or more cargo bikes could fit in the space if a pair of low staples were installed.
As Portland discusses a reform of its bike parking code and the city grapples with the question of whether it can make car-free life a mainstream choice for young families as well as singles and seniors, the DeLaneys' experience (not to mention the revenue being sacrificed by the underuse of the building's garage space) is a lesson in the details of modern Portland architecture.
The DeLaneys don't feel wronged by the situation, and say their apartment management company has been helpful and understanding. Instead, they hope that talking about their situation might help green architects start thinking about the relatively minor changes that'd be required to design buildings for family biking.
"In older buildings there's nothing," Chris DeLaney said of bike parking in Portland's multifamily units. "It's such a first-world problem, you know. But if you're choosing to be bike friendly, how are you going to get families on their bikes?"
Erin DeLaney said the cargo bike is the main way she can take her and their daughters Bijou and Octave, 2, to parks, friends' houses and grocery stores.
"I feel like that's our happy place where nobody's screaming," Erin DeLaney said. "Sometimes it's like, 'If we can just get to the bike, everything's going to be OK.'"
But the building's bike parking, designed to conform to the LEED Gold green building standard, doesn't have any room for a cargo bike. All the horizontal bike parking is on an eight-inch curb, which is larger than the 100-pound cargo bike can easily be hauled onto by a smaller person. Even if the family did claim the one space at the end of the wave rack, their bakfiets would be blocking every other bike user in the parking area.
As it is, because their bike parking space lacks staples, their bike is secured in the private garage only by being locked to itself.
Parking is only one issue; it's also hard to get the bike out of the building. Because the cargo bike isn't large enough to activate the pressure pad that opens the garage exit, they have to either haul their cargo bike up this curb, load it with the children, and then somehow get it through the large swinging door…
…or use their garage door opener to go out through the in door, hoping not to run into conflicts with cars that are entering.
Another car-free family recently moved into the DeLaneys' hallway and started building a long-tail cargo bike to move their child around. Chris DeLaney said Friday that he hopes that'll persuade the apartment managers to install staples in the car parking space to permanently convert it to paid cargo bike parking.
Erin DeLaney, who with her husband moved the family from Wyoming to Portland last year in part because they wanted to live car-free in one of the country's best cities for biking, said all the hassles of the problem have made her appreciate the simplicities of buying a car and living on the edge of the city instead.
"You totally see why that suburban dream has so much appeal," she said. "And it's not for me! I don't want that. But maybe half those people don't want to do that either."
— The Real Estate Beat is a regular column. You can sign up to get an email of Real Estate Beat posts (and nothing else) here, or read past installments here. This sponsorship has opened up and we're looking for our next partner. If interested, please call Jonathan at (503) 706-8804.