Posted by Jonathan Maus (Publisher/Editor) on October 8th, 2014 at 11:01 am
Wonk Night is where people and policy mix.
We're excited to announce our next Wonk Night.
On Wednesday, October 15th (one week from today) we'll take a Romp in the Comp Plan. The City of Portland is updating our Comprehensive Plan and the time is now to make sure they hear your feedback. A draft plan has been released and the Bureau of Planning and Sustainability needs to hear your comments before the plan is officially adopted by City Council early next year.
The Comp Plan is big; and it's a big deal. It guides Portland's land-use and infrastructure decisions. It includes a list of specific infrastructure projects, sets long-term goals and aspirations, and the all-important Transportation System Plan is folded directly into it.
Here's how the plan sits in relation to local, regional, and statewide transportation policy documents: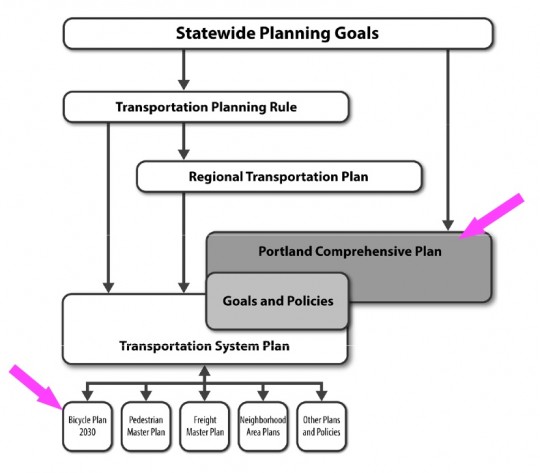 This chart from chapter 9 of the plan (Transportation) shows how the Comp Plan fits in. (Note the location of the 2030 Bike Plan)
Given the Comp Plan's size and importance, it can be hard to wrap your head around it (not to mention, we have so many plans constantly swirling around here in Portland, it's easy to get overwhelmed).
That's why we've teamed up once again with the smart folks at Lancaster Engineering and Bike Walk Vote to help you understand this plan — and more importantly — make sure your priorities and insights are reflected in it.
Our focus for this event will be action, not just talk. We want to get as many comments officially logged with BPS as possible. Please bring your tablets, laptops, and/or phones so we can input directly into the "Map App" during the event.
We'll start things off with an intro to the Comp Plan by Lisa Marie White. Lisa Marie is a volunteer activist and board member of Bike Walk Vote who is very engaged and knowledgeable about the plan. She's also an independent voice from the community — not a city staffer or paid consultant.
After we learn the basics we'll break off into smaller groups. Lancaster Engineering staff will host quadrant-specific focus groups in their offices where we'll have maps, project lists, and other details to help you bone up on areas of the city that you care about most.
After these group sessions, we'll come back into the main lobby where everyone will have the chance to share a one-minute presentation of their main priority and/or the one pet peeve they'd like addressed in the Comp Plan.
Before the night is done, we hope everyone will have used the BPS website to log an official comment (or three).
And of course we'll provide plenty of drinks and snacks and smiles to go around. (*Special thanks to event sponsor Omission Beer.)
To get a sense of how Wonk Night works, check out the recap of last year's event where we tackled PBOT's bike parking code.
Please join us!
A Romp in the Comp Plan
6:00 pm on October 15th
Lancaster Engineering, 321 SW 4th Ave, 4th Floor
Facebook event page