The "healthy convenience store" startup founded by the former CEO of New Seasons Market says it's exceeded its sales expectations thanks in part to even more non-car traffic than expected.
Last year, Green Zebra Grocery founder Lisa Sedlar told us she needed about 400 to 600 transactions a day for her model — higher quality, higher prices — to be viable. She was also counting on 30 percent of those customers to arrive by means other than a car — if only to prevent the 14-space parking lot from filling up.
One year after its launch, Sedlar says Green Zebra's 5,500-square-foot Lombard Street test location is drawing 700 to 800 transactions a day. A survey this summer found that 34 percent of them arrived by bike, foot, public transit or motorcycle.
"It's crazy — we see the same people like three times a day," Sedlar said in an interview Wednesday. "They're shopping just for that meal or that day. And that's it. So it can fit in their bike." (That jibes with research that found biking customers spend less each visit but shop more frequently than those who drive.)
In August, we took a look at Green Zebra's 26-capacity bike parking area and called it the best business bike parking in Portland.
Sedlar has expressed support for converting one or more general travel lanes on Lombard to bike lanes, saying it'd make the street safer and more pleasant to spend time on without reducing its importance as a travel artery.
Green Zebra's growth comes as the regional convenience-store leader Plaid Pantry has been taking steps to boost its own bike-friendliness.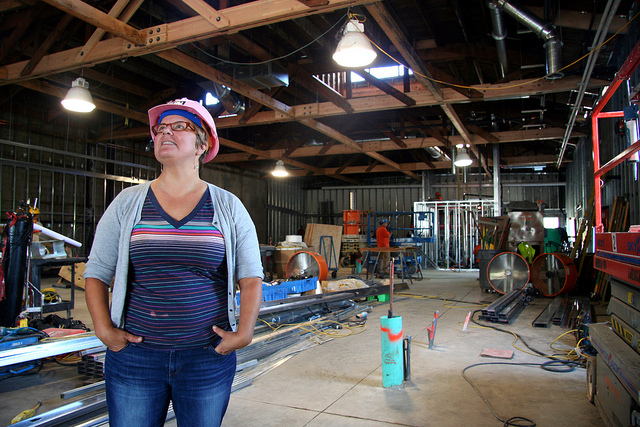 Green Zebra CEO Lisa Sedlar inside the future
Lombard location last year.
(Photo: M.Andersen/BikePortland)
Sedlar said the average transaction at Green Zebra is "slightly smaller" than she expected, but that transactions for people who sign up for Green Zebra's loyalty program are higher. She said the loyalty-program customers account for about 75 percent of transactions. (They receive 1 percent cash back, plus 10 percent off if they're using SNAP benefits a.k.a. food stamps.)
Having proven her concept with Green Zebra's Lombard location, Sedlar and her team are now raising $3 million in Series B investment to open their second location, which will be a 6,400-square-foot building on Division near 50th, and to start developing a third location that hasn't yet been identified.
The company backed out of its previously planned third location in the Woodstock neighborhood after New Seasons made plans to open a full-size grocer four blocks away.
Sedlar predicted that the Division location, which has only eight parking spaces and is in a much more densely populated area, will draw 40 percent of its transactions from people arriving without a car.
"The grocery store is the anchor amenity to the 20-minute neighborhood," Sedlar said. "The main reason people have to get in their car and drive somewhere is to get to the grocery store."