A rendering of Overlook Park Apartments, which added an extra story, 17-20 auto parking spaces and almost 50 bike parking spaces in response to neighborhood concerns.
(Image:
TVA Architects
)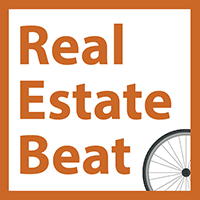 Nine months after Portland began requiring on-site auto parking to be included in all large apartment buildings, one of the first test cases is about to break ground.
Overlook Park Apartments, which will start construction in April at the northeast corner of Overlook Park in North Portland, has been completely redesigned after the developer switched architects and scrapped a plan that had his neighbors up in arms over its lack of on-site auto parking.
The resulting building will have paid auto parking, larger rooms, three fewer units, higher rents and half again as much bike parking: 108 indoor spaces for 63 units, with an on-site bike service stand and built-in tools.
"I think all in all it was a blessing in disguise, because I think all in all it's way better than it was before," developer Vic Remmers of Everett Custom Homes said in an interview. "I think the space right now is going to be a lot more valuable than it was."
The six-story building by Bob Thompson of TVA Architects, due to open in spring 2015, will have 17 to 20 auto parking spaces on site, Remmers said. Residents will have to pay if they want to use them; he's not yet sure how much.
Rents, he said, will be in the $1,000 to $2,000 range depending on unit size. As reported in October by The Oregonian, the units will now range from 528-square-foot studios to 982-square-foot two-bedrooms, with more than half of the units one-bedrooms.
The building's previous plan, Oregonian reporter Casey Parks wrote, "called for many 385-square-feet studios, a tiny space that residents worried would only attract people in their 20s."
The old plan also had the minimum amount of bike parking, 1.1 spaces per unit. The new design opts into a new city rule that let Everett Custom Homes omit a few auto parking spaces in exchange for extra bike parking.
Remmers said he thinks the redesigned apartments will fetch another $25 to $50 per month in rent than comparable units would have under the previous design.
All Remmers' changes were voluntary, since his earlier plan was vested. But the rebooted project may have avoided a legal battle with the neighborhood. Remmers said both he and his neighbors seem pleased with the compromise.
Dan Haneckow, a neighborhood resident who had objected to the previous plan, wrote in an email Friday that the new plan "does much to address my concerns, which chiefly center around flooding a neighborhood with little access, with cars. A shortage of on-street parking doesn't mean much to me, it's more about people driving fast, looking for parking."
Remmers said the extra investment in bike parking and amenities, which he estimated at about $5,000 to $10,000 not including the opportunity cost of the parking space, reflects the fact that it's an ideal location for people who use bikes.
"You're close to the MAX, you can easily ride a bike down Interstate into town, and also you can go down Mississippi," he said. "We think it's going to be a real bike-friendly place to live."
— The Real Estate Beat is a weekly column. You can sign up to get an email of Real Estate Beat posts (and nothing else) here, or read past installments here. We are looking for a sponsorship partner. If interested, please call Jonathan at (503) 706-8804.
Michael Andersen was news editor of BikePortland.org from 2013 to 2016 and still pops up occasionally.