One of the best friends bicycling has ever had in Salem, Jackie Dingfelder, left the state senate last year to become one of the biggest fans of biking in Portland City Hall.
(Photos: M.Andersen/BikePortland)
There is no particular reason to doubt the former chair of the Oregon Senate's Environment and Natural Resources Committee when she says she was just ready for a change.
"Towards the end, I was playing a lot of defense," Jackie Dingfelder said in an interview Thursday. "I did make it clear to the environmental community that we need a deeper bench. You can't rely on one person to play offense and defense."
Last year, Dingfelder said, she decided it was time to call for a sub. The greenest legislator in the state packed up her hard-won committee chair placard, her Alice B. Toeclips Award and her framed copy of the bipartisan computer recycling bill she had personally pushed through the legislature, and took a job riding a desk as the planning, sustainability and neighborhood policy advisor to Portland Mayor Charlie Hales.
Let the Portlander who has never turned down a gig elsewhere in order to live or work in this city cast the first stone.
Today, instead of an hour-long commute to Salem, Dingfelder has a five-mile bike commute that she shares with her husband, Tom Gainer (himself a BTA Alice Award winner). They kiss goodbye each morning on the east landing of the Hawthorne Bridge.
The couple has matching bikes: hers is gray, his is white.
From the Bicycle Transportation Alliance sticker on the back fender of her gray Gary Fisher to the nuanced policy prescriptions on her lips, Dingfelder is everything a biking advocate could dream of in a high-ranking city official.
"We've done this experiment of dedicated bikeways, which I think has worked very well," she said, cruising down Ankeny Street's neighborhood greenway on Thursday. "However, I think in order to get more people, over the next hump, we need to look at separated bikeways and more family-friendly type of facilities."
It's almost enough to make one wish she oversaw transportation policy for the mayor. She doesn't — her colleague Josh Alpert does — though land use comes close.
A wisp of a fiftysomething whose New York accent has survived many years in Northeast Portland's Rose City Park neighborhood, Dingfelder said she doesn't bike up as many mountains as she used to. But her saddle sores run deep.
The "bicycle town halls" that state legislators in Portland and Beaverton lead annually to get to know their district with their constituents? Those were Dingfelder's idea.
"I learned in the first one not to take people up Mount Tabor, because I lost half of them," she said.
Her first job in Portland after moving to the city, jobless and overeducated, in her 30s? At the Bike Gallery.
"I think I bought seven bikes with my employee discount," she said. "I tell [former owner] Jay Graves that I handed him a lot more money than he ever paid me."
At the time, Dingfelder had a master's degree in regional planning from the University of North Carolina and time in federal government in Washington D.C., where she had met Gainer. In Portland, she navigated a series of environmental planning jobs: at the now-defunct nonprofit For the Sake of the Salmon, then environmental consulting firm ESA Adolfson, then consulting under her own shingle and most recently as executive director of another nonprofit, River Restoration Northwest.
In 2001, while serving on the board of the Oregon League of Conservation Voters, Dingfelder "noticed that there were not very many legislators who had good environmental voting records." So she decided to become one.
She succeeded. Dingfelder had to leave the OLCV's board after taking office, but drew a perfect rating from the organization every year except 2009, when they scored her 95 percent. Her legislative work comes up more than 90 times in BikePortland's archives, including backing an Idaho-style rolling stop law for bikes (during her commute, she rolled cautiously through a stop sign at 44th and Davis) and as the only Democratic senator to vote last year against the Columbia River Crossing freeway-rail expansion.
In a biannual legislator rankings project last year, lobbyists and staffers polled by Willamette Week rated Dingfelder as one of the Portland area's three best-regarded senators.
"What you see is what you get," one business lobbyist said of Dingfelder. "Which ain't much unless you are capable of photosynthesis."
Dingfelder in her office on Thursday.
Dingfelder said she'd decided, by late last year, that it would be her last term in office. That was when Gail Shibley, herself a former state legislator who serves as Hales' chief of staff, approached her about joining City Hall.
"You get to a point in your life where it's not every day you get some unique opportunities," Dingfelder said.
When she stepped down, the state's environmental nonprofits rented the marquee over her neighborhood movie theater, the Hollywood, to say "Thank You Senator Dingfelder" for an evening. She keeps the photo on her office wall.
The move probably came with a big salary bump. She'd been drawing a state senator's $21,612, plus $35,000 as the half-time executive director of River Restoration Northwest. Her current position's pay range is $48,000 to $87,000, itself well below what former legislators who move into lobbying might take home.
Tokens from past lives in Dingfelder's City Hall office.
As the mayor's eyes and ears on the city's comprehensive plan and climate action plan, Dingfelder is now using her technical background to help execute policies she'd personally created at the state level.
"I was an accidental politician," said Dingfelder, who's also been chipping away at a Ph.D at Portland State University's Hatfield School of Government. "I wanted to make a difference and be able to affect policy firsthand, was a way I viewed it at the time. … But there are other ways to set policies."
As with many people who have left supremely difficult jobs behind, it's not quite clear how much Dingfelder misses her old work and position. She describes her City Hall aide as "the one policy assistant I supervise. Which is fine." Her office is full of mementos from Salem.
But Dingfelder also talks like a woman who, though proud of her accomplishments, cares more about the results than the moments of glory — like just another Portland do-gooder who happened to oversee much of the state's environmental policy for six years.
"I had this amazing opportunity," she said. "I got to chair the committee I was passionate about. I got a lot of things done."
The call of City Hall, she said, is similar.
"I saw an opportunity of making a difference on issues I'm passionate about," she said. "I wanted to be able to look back and say, I made a difference in my own city as well."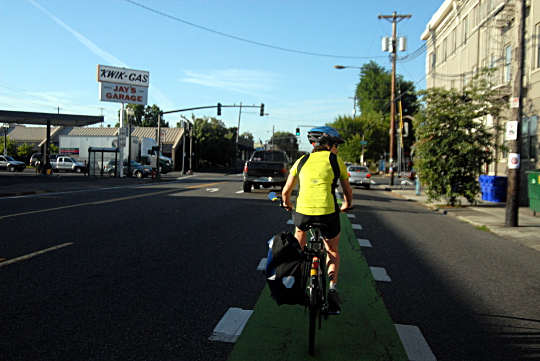 Correction 4 pm: A previous version of this post misstated Dingfelder's home state and did not annualize her salary at a previous job.
Michael Andersen was news editor of BikePortland.org from 2013 to 2016 and still pops up occasionally.