Posted by Jonathan Maus (Publisher/Editor) on April 3rd, 2014 at 12:49 pm
The infamous De Ronde is Saturday; which means it's time to ride — or walk — some hills.
(Photo by J. Maus/BikePortland)
Welcome to your menu of weekend rides and events (lovingly brought to you by Hopworks Urban Brewery).
If you're looking for something to do on Saturday, we've got a ton of options for you to consider; from a running/mountain-biking race to a mechanic course and of course the legendary De Ronde ride. Or if you're feeling lazy or just need a day off the bike, there's a big blowout sale where you can gear up for summer.
Whatever you do, keep your eyes on the sky and pack a jacket because we're supposed to see some light rain throughout the weekend.
Have fun!

Saturday, April 5th
Stubby Chase – 9:00 am at Stub Stewart State Park in Vernonia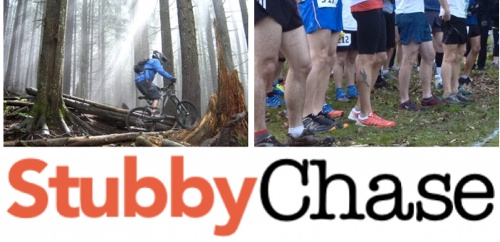 This is a brand new event that looks really cool. Teams of two, with one mountain bike between them, will chase each other around the trails at Stub Stewart State Park. The teams will be looking for 10 checkpoints spread out over a 13 mile area. It's a mass start event where half the participants start on foot and the other half start on the bikes. Team registration costs $80. More info here
Bikes For Humanity Tune-Up Skills Class – 9:00 am to 1:30 pm at Community Exchange Bike School (4038 SE Brooklyn St.)
Take this four-hour class and you'll learn all you need to know about basic bike maintenance. Imagine becoming a self-reliant bike rider in just one day! Bikes For Humanity has professional tools and you can even use their bikes if you can't bring your own. No prior mechanic skills required. Tuition is $40 per person. For more info visit B4HPdx.org or call (503) 957-6672.
Road Race Skills Clinic – 9:00 am to 12:30 pm at Fit4ever Wellness Studio (2600 NW Vaughn Street)
This clinic will focus on sprinting techniques you'll need to master to be a good road racer. It will be taught by Martin Acosta, a Category 1 racer. You'll start indoors with strength exercises and a discussion about tactics, then move outside for a ride to Sauvie Island where you'll practice lead-outs and proper sprinting form. Price is $20. Contact Martin at macosta650[at]gmail[dot]com for more info.
Back in the Saddle Again – Columbia River – 9:30 am from Wilshire Park (NE 33rd and Skidmore)
This ride is targeted toward novice/slower riders. Leader Ann Morrow will help you learn skills needed to ride in a group. "Find out why bicycling is such a popular sport – You can do it!" says Ann. More info here.
De Ronde PDX – 10:00 am out Pyramid Brewing HQ (corner of NW 31st and Industrial)
This is it. The legendary unsanctioned group ride that is one of the most difficult days you might ever have in the saddle. The unrelenting course takes you about 50 miles and well over 7,000 feet of elevation gain. You'll wind through Portland's West Hills starting with NW Saltzman Road and heading south to a viewpoint finish atop Council Crest. Follow the lions! More info here.
Western Bike Works Warehouse Sale – 10:00 am to 4:00 pm all weekend at the Velotech Warehouse (5741 NE 87th Ave)
It's baaack! This sale was so popular last time around, the folks at Western Bike Works are doing it again. Save 30-80% off all types of good stuff. There will also be booths set up where you can learn about (and sign up for!) some great local rides. More info here.
Bike Friday Cargo Bike (Portland) Unveiling – 3:00 pm at Velo Cult (1969 NE 42nd)
Bike Friday, the folding bike maker based in Eugene, has a very interesting new cargo bike in their stable: the Haul-a-Day. On Saturday, company reps will be at Velo Cult to debut the model in Portland. Show up to check out this versatile new urban utility riding option and take one for a test ride. More info here.
Sunday, April 6th
Lacamas Lake Loop ride – 9:30 am at Clark College (Fort Vancouver Way in Vancouver, WA)
Portland Wheelmen Touring Club member Ann Morrow will lead this 32 mile jaunt through downtown Vancouver and around Lacamas Lake. Some folks are using this as a training ride for the Pioneer Century in June. They'll stop at a bakery on the way back into town. More info here.
La Doyenne of the East – 10:00 am near the Happy Valley Town Center (SE 162nd and Misty Dr)
This is the companion ride to De Ronde PDX created for those who just can't get enough suffering and climbing in one weekend. The course is another 50 miles (or so) and over 7,000 feet of climbing. Follow the lion stencils on the ground to your glory or your doom. More info here.
Mount Tabor Mini Ramble – 4:00 pm at Montavilla Park (NE 82nd and Glisan)
Led by local urban historian Shawn Granton of the Urban Adventure League, this ride will explore the "nooks and crannies, hidden vistas, and unpaved roads" of the Mount Tabor area. The ride will be followed by dinner and drinks if you care to partake. Route is about 10 miles. And Shawn would like to remind folks: "no lycra/spandex nonsense." More info here.
Did we miss anything? Please drop us a line and let us know. Or feel free to promote your event in the comments below. And as always, thanks for reading and riding.