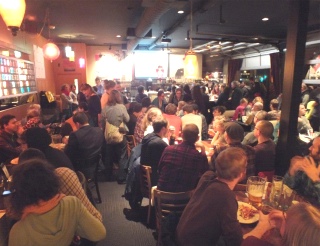 It was a packed out for the 2nd annual
Transportation trivia night packed the Radio Room last spring.
(Photo: Mary Nichols)
Two years ago, Portland's biking-for-everyone advocacy group/bike shop decided to try a new kind of fundraiser: a transportation-themed bar trivia night at the nearby Radio Room pub.
Price: $10 per player, including a pint of Hopworks beer.
It turned out to be a pretty good idea. By the second installment, it seemed as if every transportation wonk in the city (including the mayor and his wife, whose team didn't win) was turning out for the fun. After three packed events at Radio Room, the Community Cycling Center will expand the event this month to the 700-capacity atrium of City Hall.
The City Hall trivia night is Wednesday, March 19, from 5:30 to 9 pm, at 1221 SW 4th Avenue downtown. Trivia starts at 6 pm. Hopworks beer will be available for suggested $5 donations after the first pint. CCC spokeswoman Melinda Musser said Wednesday that there'll be some free food available, though they haven't yet announced the donor. The event's lead sponsors are Kittelson & Associates and Lancaster Engineering.
Teams can have up to 6 players. Prizes include a Chrome backpack, tour passes from Pedal Bike Tours, a bike tune-up from Western Bikeworks and passes to Filmed by Bike.
"The grandest prize of all is a trophy to be taken home by the winning team," the CCC wrote in its official news release. "Team Maxx Tracks in your Face has closely guarded the trophy since August 2013, and it's time for them to reclaim it or pass it on to a new winner."
You can RSVP for the event (and invite friends) on Facebook.
(Confidential to Maxx Tracks: oh it's on.)