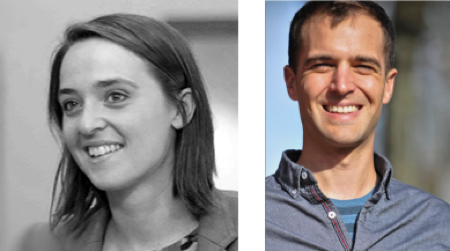 NWTA Board President Kelsey Cardwell (photo courtesy NWTA) and newly hired Director Dave Roth (photo by J. Maus/BikePortland)
With the recent hire Dave Roth, their first-ever full-time director, and election of Kelsey Cardwell as Board President, Northwest Trail Alliance is shoving off into an important new era of off-road cycling advocacy.

Now entering their fifth anniversary since a major re-launch effort in 2009 (the group was formerly known as the Portland United Mountain Pedalers, or PUMP), the group now has over 700 members. That's up from a mere 100 members just five years ago.
The addition of new leadership and a strong track record give the NWTA a solid foundation for the future. And more importantly, it provides stability at an organization that has relied on part-time volunteers for many years.
Roth has a background in transportation planning with the City of Eugene. He's navigated city bureaucracy to build capital projects that improved bicycling and walking, helped develop Eugene's first Pedestrian and Bicycle Strategic Plan, and was also active in a regional trails planning process. Away from the office, Roth has been on the competitive side of cycling and has led on and off-road bike tours. While Roth will be the new face of the NWTA, his job will focus primarily on fundraising, membership development and communications.
Joining Roth at the head of the NWTA is newly elected Board President Kelsey Cardwell. Originally from Washington D.C., Cardwell manages communications and online organizing for the non-profit school funding advocacy group, Stand for Children Oregon. She's a regular NWTA volunteer and is known for her mastery at operating their ST240 singletrack trail building machine.
It's a good sign when your board president knows how to operate a trail-building machine!
As for what this duo and their solid leadership and volunteer crew have in store, Roth shared their list of goals for 2014:
1. Build upon our past project successes for 2014 and future years. Over the past few years, we've had some big wins at Stub Stewart State Park, Sandy Ridge, Hagg Lake, Eichler Park, and Port of Cascade Locks.

2. Continue to provide fun events and programs that bring mountain biking to as many people as possible. In 2014, our calendar includes NWTA Trailfest, Sunday Parkways, Group Rides, Take a Kid Mountain Biking Day, Sandy Shuttle, Trail Skills College, Bike Patrol, and more.

3. Build our membership base and secure sustainable revenue streams through sponsorships, donations and grants so that NWTA can fulfill its mission supporting mountain biking in Portland and the surrounding region.
While there have been some disappointments for Portland mountain bike access issues in the recent past (Forest Park remains a very sore subject), the NWTA has chalked up some very successful partnerships and trail-building projects throughout the region.
The group's former volunteer leader, Tom Archer, told me at a meeting this week that having a full-time director and dedicated board will mean a world of difference for what the NWTA is able to accomplish. "We could only do so much," he said, "as a rag-tag group of volunteers."
We look forward to covering this next chapter in local off-road cycling issues. And there's a lot of news already brewing. Stay tuned.