(L-R) Park Ranger Ray Turner, Seth Burke, and
Park Ranger Karras Kalivas, post-recovery.
(Photos courtesy PP&R)
Portland Parks & Recreation have some good news to share: They've helped a Portland man recover his stolen Surly Puglsey fat bike.
Here's how it went down…
Seth Burke got his Pugsley stolen on from in front of a business in downtown Portland on Monday, February 10th. According to PP&R, who emailed us details about the theft and recovery, Burke worked hard to spread the word about his bike. We tell people all the time that the best way to get your bike back is to pound the pavement and tell anyone who will listen about your bike. Even so, after filing a police report and several days of looking and showing folks photos of his bike, Burke had lost hope.

Then last Thursday (February 13th), Burke saw Park Ranger Ray Turner on the Esplanade and flagged him down. Burke showed Turner a photo of the bike and told him the specifics. Turner then passed the information onto his colleagues at the agency. Lo and behold, later that day Turner's partner, Karras Kalivas, spotted what he thought was Burke's bike. It was being ridden by a man in Director Park — very close to where the bike was originally stolen. Kalivas and Turner approached the suspected thief, who then immediately dropped the bike and began to run away on foot.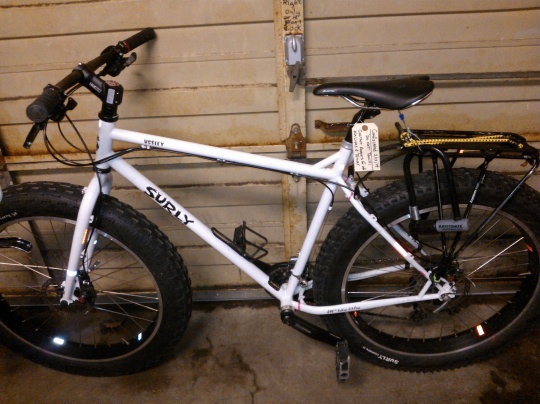 Now in the possession of PP&R, Burke was able to positively identify the bike and even provide a key to the u-lock that was still attached to it. (UPDATE: Burke says the bike was locked when it was stolen. The lock that remained on the bike was a secondary lock.)
In a statement from PP&R, Burke said, "Rangers Ray Turner and Karras Kalivas were very professional, very thorough, extremely helpful, and a huge benefit to this situation and to the public safety and health of our parks and city. A lot of us may not even know what Park Rangers do, and how beneficial they are to our parks. I can't thank them enough."
We love stolen bike stories with happen endings. Nice job Rangers Turner and Kalivas! And we're also glad to see that Burke's persistence paid off (as it often does in these situations).
— Check out our bike theft story archives for more recovery tales.