Right off the Williams Avenue bicycle highway.
(Photo by J. Maus/BikePortland)
The local bike-friendly bookstore that also happens to be one of the country's largest zine distributors and publishers has grown again and joined the row of bike-friendly businesses on North Williams.
"Once we built lofts in our storefront to store books under, and filled up a storage unit down the street, we knew it was time to get serious about finding a new building," Microcosm Publishing spokesman Tim Wheeler wrote in an email Monday. "Since we're bike commuters and our customers are bike commuters, we didn't want to move hundreds of blocks outside the city center or away from our own homes and lives, so we narrowed our search to affordable commercial spaces in inner Portland."
Wheeler added that the Microcosm team is "all bike commuters."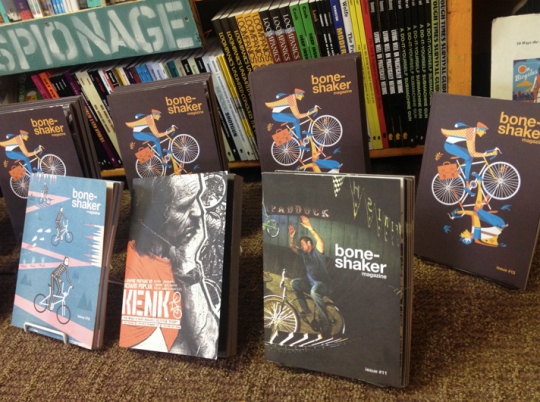 "The only issue with this part of the street is the lack of bike parking, but after a few calls to the city they came and measured the other day," Wheeler wrote. "A couple staples are coming in soon and a corral is possible after that, which would be great."
Tim Wheeler
As for the Williams location, Wheeler added that, "We may not be in the center of the action, but we're happy with our neighborhood and feel lucky to be on such a major bike street with like-minded businesses."
According to Wheeler, 2013 was the 15-year-old company's best year since 2005. The shop's many bike-related titles and products include Boneshaker: A Bicycling Almanac, Why We Drive by Andy Singer, Bikenomics by Elly Blue and How to Move by Bike by Steph Routh.
Stop in next time you roll by and pick something up. The new location is 2752 N Williams Ave, one block east of Legacy Emanuel Medical Center and one block south of Dawson Park.