Washington County Bicycle and Pedestrian Coordinator Shelley Oylear.
(Photos by M.Andersen/BikePortland)
North Portland; unincorporated Washington County. Planning; engineering. Biking; walking. Government service; neighborhood activism.
Shelley Oylear, the only public employee in Washington County with the word "bicycle" in her job title, is the 36-year-old queen of having feet in two worlds. And with a new six-mile off-road path just opened and three miles of new curb-protected bike lanes in the works, her diverse background is paying off for the people of the metro area's west side.
"I guess I've always been a little bit of an adventurer," she said.
Oylear is heading into the third yearof her biggest adventure so far: she's the first bicycle and pedestrian coordinator for Washington County — a position many large U.S. cities don't have, let alone suburban counties.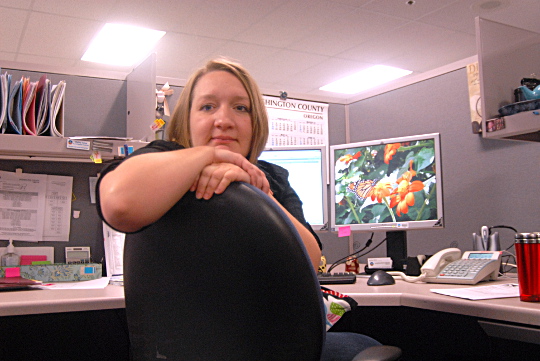 NACTO's street design guides, written with big central cities in mind, seem of little use in Washington county's unincorporated urban areas (total population: 220,000 and growing fast) such as Garden Home, Aloha and Raleigh Hills.
"There's a lot of solutions out there for urban areas, a lot of ideas, but we get to be creative about trying new things," she said. "The engineer in me loves the problem-solving."
In a county that's booming the way Washington is, Oylear's experiments don't have to wait long before being tested on the street. Part of her standard routine, as she makes her daily commute into Hillsboro from her home in North Portland's St. Johns area, is to deboard at various MAX stops with her folding Brompton bicycle and ensure that the county's ubiquitous construction sites are leaving conditions safe for biking.
Oylear moved to Portland in 1998 to finish a college degree at Portland State University. She had been paying her way through Oregon State and was already scoring work in Portland amid the metro area's previous economic boom, doing civil engineering and survey work on subdivisions and parking lots. ("Not very interesting," she recalls.)
Then she took a job at Clark County's downtown Vancouver office and, looking to save money, started biking to work across the Interstate Bridge. The experience, which she said involved some of the greatest sunrises of her life along the Columbia Slough path and also a Hayden Island car-bike collision, awakened her interest in using bicycles as transportation.
After several years in private-sector civil engineering, she took the Washington County job in 2010. It was the brainchild of county land use and transportation director Andrew Singelakis, who had just arrived from Tucson's bike-friendly transportation department and wanted someone who could speak not just the language of planners but the language of traffic engineers.
Working from a cubicle next to the county engineering department, Oylear has thrown herself into that task, building relationships and tracking every detail of new projects.
Engineers, she said, "are going to always say, 'No, because of A, B, C.' If you figure out a way to address the concerns up front, you've taken away some of those automatic 'no's."
Oylear says she's proud of Washington County for its "let's get it done" mentality, for a stability and transparency in decision-making that she says appeals to businesses, and for being unafraid to tell citizens that the government can't provide new services (additional police patrols, for example) without getting new revenue.
The county uses property taxes to raise $35 million per year for transportation projects of countywide significance, including a $5 million "opportunity fund" that is often used to match Metro and state grants for biking and walking projects. With major help from the county's parks budgets, it's adding up to a series of breakthroughs for Washington County's off-road trail system, including the completion of the Westside Regional Trail and a planned connection to the Waterhouse Trail.
Washington County is now pushing to the forefront of bike lane design, too, with plans for a two-mile protected bike lane on Walker Road, just outside Nike's headquarters, and a one-mile protected bike lane on Cornelius Pass Road, not far from Intel's huge campus.
"I think business, industry — the more they hear from employees, the more they think about multimodality," Oylear said.
Activist Jim Parsons rides between subdivisions on a 2011 bike trip from Beaverton to Tualatin.
(Photo by J.Maus/BikePortland)
Then there are the challenges of working in Washington County: the vast distances between Oylear's projects, the region's huge diversity of bike users, and — most frustratingly to Oylear, it seems — the sense that people don't seem to express much interest in anything their government is doing.
"I don't know whether it's people are too busy and they've been fine with the way things have been going in the past and they don't have any issues, or they don't know how or when," she said. "The group [of bike users] is so diverse, how do you find a place for people to plug in?"
"If we can engage them, it's a good day," she added, a little sadly.
The idea of being unplugged from one's community is especially alien to Oylear, who in her off-hours is active with her neighborhood association and is part of the small group of activists who've planned, agitated and gathered support for a North Portland Greenway running from St. Johns along the east bank of the Willamette River to the Rose Quarter area, back in Portland.
"I like to be able to go back to my neighborhood and advocate," Oylear said with a smile, sitting in her Hillsboro cubicle. "If I lived here, I'd have a conflict of interest."
Michael Andersen was news editor of BikePortland.org from 2013 to 2016 and still pops up occasionally.