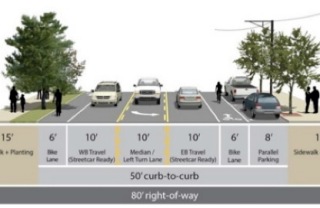 New design for Foster Rd will be front and center at
open house event tonight.
It's another one of those nights in Portland where there's a ton of great bike-related events going on. Fortunately for you, we've put together a nice menu to aid in your selection…
The big advocacy event tonight is an open house for the City's Foster Road Streetscape Plan (6-8pm at SE Works on SE Foster and 78th). As we shared back in October, a citizen committee already approved the City's ideas for re-allocating the roadway to make room for bicycle access. Now the public-at-large will get a chance to see those plans and weigh in with their feedback.

Foster area resident Nick Falbo was on that committee and he also happens to be a very talented urban planner/graphics maker. To help promote tonight's Open House and give folks a greater sense of historical context, he created a very cool timeline inforgraphic and posted it on the Foster United blog. "I find it helps put people in the right mindset for thinking about plan making, and thinking about an alternate future from what is there today," Nick wrote on the Active Right of Way email list this morning, "Every 50 years or so there is a fundamental shift in who, how and what Foster Road serves, and a similar story has played out on almost every street in Portland."
Check it out…

If Foster isn't interesting to you, how about an event that brings together local leaders from the tech and bike worlds and mixes in a bit of ancient Samurai art? Bikes+Tech Samurai Happy Hour (Portland Art Museum at 5:30pm) is the brainchild of Justin Yuen, the founder of local social networking software company FMYI and Grouptrail, board member of the Bicycle Transportation Alliance, and huge cycling fan. Justin's goal for the event is to demonstrate the strong support for bicycling that exists in the booming local tech industry and to bring tech and bike leaders together to make that alliance even stronger. Check out a list of attendees and get RSVP information here. (Please note: This is a private event. Sorry for any confusion.)
A very cool option for tonight would be to swing by West End Bikes for their Mission Workshop Holiday Launch Party (5-8pm, SW 11th and Stark), then roll over to the Bikes+Tech event. If you're not already familiar with them, Mission Workshop makes excellent urban bike apparel from their San Francisco headquarters and West End Bikes is their largest dealer in area. The party will be a chance to see their latest range, meet the nice folks at West End, and enjoy a beverage.
If you're reading this from Vancouver and want to get involved with a great annual holiday tradition, Bike Clark County is headed over to Waste Connections for their annual holiday bike build project. BCC will help the company inspect and tune-up about 450 bikes that will be given to area kids in need. Come join in the holiday spirit and bring some tools and a workstand if you've got one. Pizza will be provided. The fun starts tonight at 5 pm at Columbia Machine (107 South Grand Boulevard).
Have fun and stay warm out there!