Last night, PBOT asked this committee to
endorse its plan for a road diet on SE Foster Rd.
(Photos © J. Maus/BikePortland)
The Stakeholder Advisory Committee (SAC) for the Foster Streetscape Plan voted overwhelmingly in favor of the Bureau of Transporation's recommended redesign of Foster Road last night. There was only one committee member who voted against the plan, and none of PBOT's proposed designs was challenged. However, tempers and emotions flared during the meeting on an issue unrelated to how the lanes and sidewalks should be divided up.
As we shared on Tuesday, after a 10 month public process, PBOT unveiled their proposal for how to turn the notoriously dangerous "Foster Freeway" into a "safe, pleasant, attractive and comfortable place to live, shop and linger." In short, the design would change the existing, four lane cross section (with on-street parking in some segments), to a more modern lane configuration that would have three standard lanes and two, six-foot wide bike lanes from SE 52nd to 90th.
The reactions to PBOT's plans here on BikePortland have been mixed. Many people are thrilled that Foster will have dedicated space for bicycling and (most likely) lower speed and calmer driving behaviors. But others were hoping for a more robust bikeway design that would provide some degree of buffer or physical protection.
At last night's meeting, PBOT project manager Mauricio LeClerc and traffic engineer Lewis Wardrip explained the details of their recommendation and the rationale behind their decisions. They also clarified how the new striping would look at the western end of the project and at a tricky "mixing zone" at SE 82nd.
Here's the PBOT striping plan for the intersection of Foster and SE 56th:
As you can see, the new bike lanes would vanish suddenly just west of 56th and Foster would return to its existing, four-lane cross-section. One attendee at the meeting last night pointed out how this would "be an awkward transition" if someone was riding westbound and "their lane just ends". In response, PBOT's Wardrip said they could put down sharrows or other pavement markings to help with the transition. However, PBOT assumes most people on bikes will turn off of Foster prior to the bike lanes ending. They'll expect westbound bike traffic to go north at 56th to weave through the neighborhood. For bike traffic coming from the north and traveling eastbound, LeClerc said they could use the future bike lanes on SE 52nd, ride past Foster and then go left (east) on SE Center Street to access Foster.
At SE 82nd, some people were disappointed that westbound bike and auto traffic would mix in a travel lane. Here's the striping plan for that section PBOT shared last night:
PBOT staff admitted that this design is "not ideal by any means" but that it was the best option available at this time. In order to maintain a dedicated bike lane through the intersection (to the left of a right turn lane), PBOT claims they'd need to acquire several feet of right-of-way from the adjacent bank parking lot. Here's how that would look (green color would be newly acquired PBOT right-of-way):
Since the design above is beyond the scope of this current project, PBOT said they would include language about pursuing it in the update of the Streetscape Plan. (Note: This Foster striping/redesign is just one project within the larger update to the Foster Streetscape Plan.)
After going over those two issues, LeClerc presented the recommendation and the context behind their decisions (read the draft recommendation PDF here).
One of the projected impacts of PBOT's recommendation is that average driving speeds during the evening rush-hour would decrease from 19 mph to 14 mph along the 2.3 mile project corridor. Put another way, the new lane configuration (which won't allow people to pass slower drivers) would lead to a three minute increase in travel timesin the short-term.
"The increase in travel time would go against our goal of equity… I don't see any people of color around the room… We need to hear more from people with backgrounds who don't match our own."
— Nick Christensen, Lents Neighborhood Association
That aspect of the project concerns committee member Nick Christensen. "The increase in travel time would go against our goal of equity," he shared, via a prepared statement. Christensen, who was the only "no" vote on the recommendation, said people who drive this stretch of Foster would be burdened with an extra 13 hours a year on their commute. "I see benefits to some users and the burdens being shifted to other users." He also pointed out that the official project goals calling for "smooth, consistent traffic movement" for motor vehicles would not be met with the three-lane/bike-lane configuration.
PBOT's LeClerc responded to Christensen by saying the design is a compromise of many needs and interests. "On streets like Foster we have to make trade-offs. It's a balance. This recommendation we believe best meets the objectives." LeClerc said the city is fully aware of the impact to motor vehicle travel, but said it's an acceptable trade-off for the sidewalk improvements, bike lane, and the retention of 94% of the existing on-street parking capacity.
When another committee member, Cora Potter, mentioned how the project would place a negative "burden" on motor vehicle drivers, someone else spoke up about the burden the road currently places on bicycle riders and walkers. "I'd say that there's a burden right now on other users. It takes us more time as bicycle riders and as walkers to cross the street… This current set-up [of the street] hurts a lot of people."
Committee member Dan Campbell, who said he appreciates the (once controversial) buffered bike lanes on SE Holgate, said that a road diet and other safety improvements PBOT has planned for Foster are "worth making the trade-off" in motor vehicle access.
More support for PBOT's plans rolled in from committee member Nick Falbo (who's also a planner at Alta Planning). "I think if we were to put the recommendation on the ground today, it would dramatically transform what it's like to bike, drive and walk on Foster… I think it will change the whole attitude of what it feels like to move on Foster Road."
"This process wouldn't be valid if this was happening on Williams."
— Cora Potter
A local business owner who sits on the committee, Kelsey Donogoen, said she's looking forward to the slower auto traffic. "I think it'll be great to get cars to slow down so they can actually see what they're driving by." (The speed limit on Foster is currently posted as 35 mph; but PBOT said they plan to reduce it to 30 once the changes have been implemented.)
It was at this point in the meeting that Nick Christensen raised a concern about the public process and things got a bit heated.
"Look around the room," Christensen said, "we're back to the situation where 40% of my community is ethnic or racial minority and I don't see any people of color around the room. That concerns me that we're not hearing from a significant amount of our community who have different backgrounds, experiences and values from the people sitting around this table. We need to hear more from people with backgrounds who don't match our own."
Committee member Meghan Humphreys responded by saying, "You can't really at this point say, because nobody fits this diverse community standard, that this is somehow less valid. I don't believe this process is less valid… I think we need to do more as a community to get people to understand what's happening here."
Then meeting attendee and area resident Cora Potter said, "This process wouldn't be valid if this was happening on Williams."
"But this isn't Williams," Humphreys replied.
"It's very close to Williams," said Potter, "There are a lot of people that have been displaced from Williams to our neighborhood and they're going to see things going on and they're going to think they're going to have to move on down the road again and they're going to be afraid. You need to go them where they are instead of expecting them to come to this meeting."
At this point, tempers flared and things deteriorated when someone accused Potter of "using the ethnic minority issue to drop a bomb on this project."
When PBOT's LeClerc tried to calm things down, by (in part) pointing out that the committee includes Roseva Saa of Portland Mercado (who wasn't in attendance last night), Potter said Saa's appointment to the committee was "tokenism" and that Saa had only come to two meetings (out of 10). "When we started this committee," Christensen then pointed out, "There were no people of color."
In PBOT's defense, LeClerc said their plans for Foster, "Benefit people of all ages, ethnicities, and abilities." He then continued, "I think we're making it better for everybody. So, regardless of whether we have the representation here or not, I think the recommendation is one that is inclusive of all people… And a higher percentage of minorities use active transportation than the rest of the population."
"My thinking is that the people of the Mt. Scott and Arleta neighborhoods will make better use of a wide bike lane in this segment than they would of a rarely used parking lane."
— Nick Falbo, committee member
Before the meeting ended, Nick Falbo presented an idea for how to improve the bikeway between SE 72nd and 80th. PBOT's current plan is to have a six-foot wide bike lane next to parked cars and a standard lane on the south side and a six-foot wide bike lane next to the curb on the north side. Falbo thinks devoting eight feet of the roadway to car parking isn't a good use of space, so he proposed eliminating that parking lane, which would allow for a nine-foot wide bikeway on both sides of the street (six for the lane, three for a buffer).
"My thinking," Falbo explained, "Is that the people of the Mt. Scott and Arleta neighborhoods will make better use of a wide bike lane in this segment than they would of a rarely used parking lane." Falbo pointed out that this segment is full of popular destinations and that, "The idea that they [nearby residents] could hop on this nice, safe bike lane and end up at the grocery store is very appealing."
Here's what the City has planned…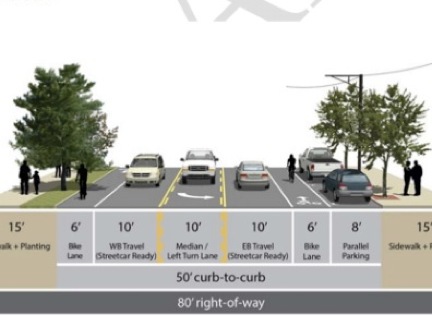 And here's what Falbo would rather see…
The existing parking lane isn't needed, Falbo contends, because nearly every business has their own, off-street parking lot.
Reaction to Falbo's idea was mixed. LeClerc with PBOT said "We're concerned that businesses will feel an impact," if on-street parking was prohibited. He and others pointed out that the upcoming Portland Mercado development is expected to attract a lot of customers; many of whom they expect to arrive by car. It wasn't the response Falbo was hoping for, and it's not likely PBOT will add his idea to the official recommendation.
With the committee's full endorsement, PBOT will now continue to present the recommendation to other community groups and eventually plan a public open house. After that, the project will move into the design and engineering phase and it will be officially adopted by City Council later this year. Due to strings attached to the federal funds being used, construction of this project isn't scheduled until 2016.
— Learn more at our Foster Streetscape Plan story tag or at the City's website.