Posted by Jonathan Maus (Publisher/Editor) on October 29th, 2013 at 10:37 am
Helltrack is coming!
Just because Portland isn't known as a mountain biking mecca (yet), doesn't mean we don't have our share of mountain bike news. Check out the updates on several fronts below…
Helltrack at The Lumberyard
The Lumberyard has partnered up with PlusSizeBMX on an interesting event next month: They call it "Helltrack." According to The Lumberyard's event coordinator Amy Hardesty, Helltrack is a "multi-lap obstacle race with nine riders going head-to-head that combines indoor and outdoor features, a cereal bowl, pallets, bikes, beer, jumps, UCI Bro Barriers, Carnage, and good times." There are racing categories for all types of riders (even kids!) and everyone is welcome. The course runs inside and outside The Lumberyard and there's an after-party sponsored by Red Bull. Event dates are November 23-24th and registration is $20-25 per race. More info at LumberyardMTB.com or follow updates on the Facebook event page.

River View Natural Area planning process underway
Portland Parks is leading a public process to determine the future of the River View Natural Area. As we've shared previously, the 146 acre parcel just south of the Sellwood Bridge on the west side of the Willamette River holds major bicycling potential. At this point, the Public Advisory Committee for the project has met twice and a rough draft of the Concept Plan will be on the agenda at the next PAC meeting in January. But before then, Portland Parks needs to hear input from the community about how best to balance the goals of recreation and conservation.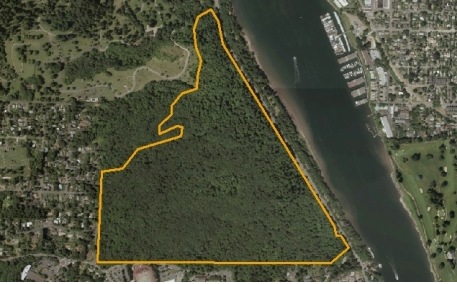 There's a community meeting and open house scheduled for November 12th from 5:30 to 7:30 pm at PDX Church (125 SW Miles). The Northwest Trail Alliance, who has a member on the PAC, said they hope to see all types of mountain bikers at the meeting: "Do you want XC trails? Do you want advanced trails? Do you want a beginner loop? Do you want a variety of trails and difficulty levels so that riders can advance their skills? It is our time to be proactively engaged in developing a plan for this centrally located natural area, where many of us can ride to where we ride!"
Learn more about this project at the City's website.
Sandy Ridge trail named one of nation's "model trails"
The International Mountain Bicycling Association has named "Flow Motion" trail at Sandy Ridge as one of the top places for mountain biking in the country. Sandy Ridge is located about 40 miles east of downtown Portland and has become the most popular "local" riding destination. IMBA included Flow Motion as on of their "model trails" and said, "It's all about flow with an endless succession of berms and rollers through a lush, rainforest-like landscape." Learn more about the Flow Motion trail here.
This recognition is especially sweet for local MTB advocacy group Northwest Trail Alliance and one of their sponsors Portland Design Works. PDW sponsored a big trail work party at Flow Motion back in May. Check their video recap of that event below…

Sandy Ridge Trail Work Day from PDW on Vimeo.
Northwest Trail Alliance General Meeting is tonight!
Does all this mountain biking news get you pumped and inspired to get more involved and join hands with local trail stewards? If so, tonight is a perfect opportunity to get connected with other mountain bike fans and advocates at the monthly meeting of the Northwest Trail Alliance. They're meeting tonight at Hopworks Urban Brewery (2944 SE Powell). Social hour (with free beer) starts at 6:00 and the meeting gets underway at 7:00.