Posted by Jonathan Maus (Publisher/Editor) on October 28th, 2013 at 11:42 am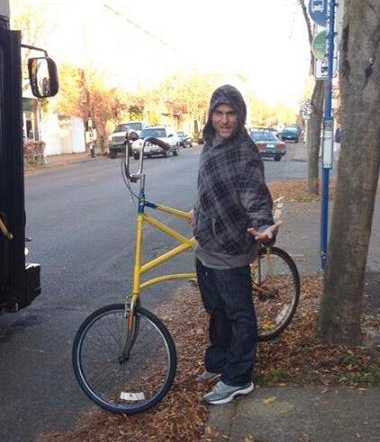 This man tried to sell this stolen tall bike to Aaron Brown for $20 last Thursday.
Stealing a bike is bad enough; but stealing an artistic tall bike from a well-known local street performer and personality is a whole nother story.

Last Thursday (October 24th), Portlander Aaron Brown tweeted his interaction with the suspected thief: "sketch dude just tried to sell me this freak bike for $20. When I asked him about it, he freaked + jumped on the bus." Brown snapped a photo of the guy just before he climbed onto the #4 bus headed east on SE Division at 35th. That tweet and the bike in the photo caught the eye of Matthew Rogers, who recognized the bike from a photo I took that was featured here on the front page earlier this month.
In that photo, the same bike that appears in the photo with the alleged thief is being ridden by well-known local entertainer Dingo Dizmal (a.k.a. Dingo the Clown)…
As it turns out, the bike belongs to Dingo's friend and partner Olive Rootbeer (both of whom appear in the latest Streetfilm video about Portland's 100th bike corral). Dingo and Olive make their living by telling stories to children's groups and going balloons at events like Sunday Parkways (here they are in action in 2011).
Here's a more recent photo of Olive riding the bike (posted to FB by Dingo):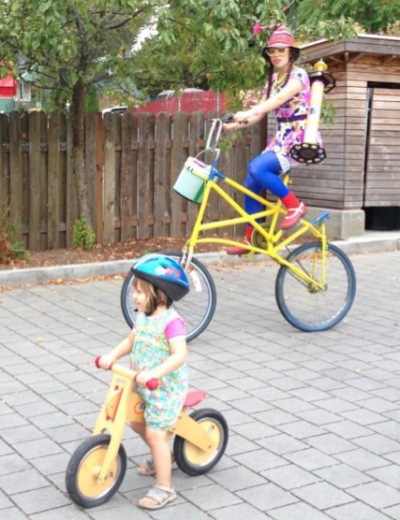 Dingo posted Brown's photo on Facebook Friday and his considerably-sized social network is hard at work trying to track the bike (and its thief) down. One of Dingo's friends says he's even friended Pee Wee Herman in hopes of gaining his stolen bike tracking expertise.
With all seriousness, if you see this bike, buy it for $20 and then please contact us and we'll connect you to Dingo and Olive.
Jonathan Maus is BikePortland's editor, publisher and founder. Contact him at @jonathan_maus on Twitter, via email at maus.jonathan@gmail.com, or phone/text at 503-706-8804. Also, if you read and appreciate this site, please become a supporter.