Posted by Jonathan Maus (Publisher/Editor) on October 16th, 2013 at 10:37 am
The racks at Powell's on Burnside and 10th have the
names of bike books and their authors on them.
(Photo © J. Maus/BikePortland)
An upcoming renovation project at Powell's Books in downtown Portland has put the future of its iconic, bike book themed racks at the corner of SW 10th and Burnside in question.
According to the land use review notice (PDF) available via the Portland Bureau of Development Services (and brought to our attention by Doug Klotz), Powell's is planning a storefront improvement project that will bring changes to the south and east facades of their flagship downtown store. The plans call for a new "porch" design that will eliminate the existing art bike racks and swap them out for nine PBOT-issued staple racks that will be placed on a new curb extension at the northwest corner of 10th and Burnside. (Note: These new racks won't be an on-street bike parking "corral", they'll be placed on an extension of the existing sidewalk that will use space currently occupied by two auto parking spaces.)
Because Powell's will be technically eliminating short-term bike parking on their premises, they will pay into PBOT's Bicycle Parking Fund in order pay for the new staple racks.
Here's the excerpt from the land use notice that refers to the changes (emphases mine):
Additional improvements include changes to the corner entry at NW 10th Avenue and W Burnside Street, with a new wood soffit under the "porch", new storefront, and existing short-term bike parking removed from this location. Non-conforming upgrades are triggered by the proposal, with the only applicable upgrade to this site being a requirement for eighteen (18) short-term bicycle parking spaces. The applicant is choosing to pay into the City's bike fund for the bicycle parking, which will be placed in the right-of-way by Transporation. In addition, the applicant proposes eliminating two on-street parking spaces on NW 10th Avenue, and adding a new planter to the newly enlarged sidewalk area.
And here's a detail of the plan drawings: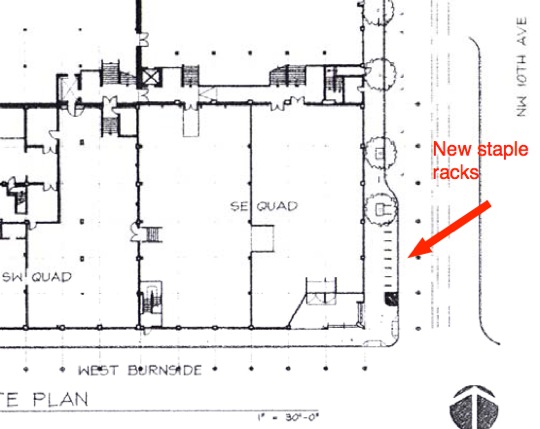 Detail of Powell's storefront renovation project.
(Ernest R. Munch Architect Urban Planner)
So, while bike parking capacity will be maintained, according to the plan drawings, the new facility won't be covered. For some that trade-off stings a little less because the current art racks aren't that functional. According to discussion on the Active Right of Way email list (where Klotz shared this news), many people prefer the bike corral at the Powell's entrance on NW Couch.
As for what Powell's plans to do with the beloved, bicycle-book themed racks, we spoke to the project architect yesterday. Ernest Munch said they are aware that the existing racks are difficult to use, but he added that, "We like it and our intent is to use it on-site. Perhaps inside the building."
Public comments on the renovation plans will be accepted until November 1st. Download the land use review notice for more info (PDF).
Jonathan Maus is BikePortland's editor, publisher and founder. Contact him at @jonathan_maus on Twitter, via email at maus.jonathan@gmail.com, or phone/text at 503-706-8804. Also, if you read and appreciate this site, Jonathan hopes you'll become a supporter.