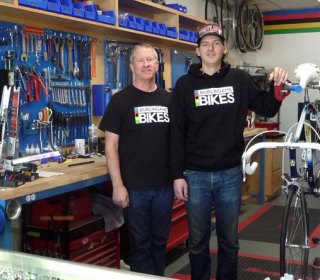 Glenn and Mark Vanselow of Burlingame Bikes.
(Photos: Glenn Vanselow)
Burlingame Bikes is Portland's newest bike shop.
The shop was started by the father-son duo of Glenn and Marc Vanselow. Marc (the son) is a professional bike mechanic who got his start in 2001 by working on Alfa Romeos. When the auto shop he used to work out left town in 2005, he started working on bicycles and has been a bike mechanic ever since. Marc's dad Glenn is a enthusiast of vintage European road bikes and a partner in the business.

The shop is located about five miles south of downtown Portland at 8431 SW Terwilliger Blvd (map) in the Southwest Burlingame neighborhood. It officially opened on May 17th and there was a grand opening on June 22nd. The shops focuses on road bikes and carries a full selection from Jamis as well as used, classic steel European racing bikes from the 1970s-90s. They're experts on Campagnolo parts and offer full service repair on all types of bikes. The shop also accepts employer voucher for repairs and service via participation in the Commuter Check for Bicycling program.
According to BikePortland's comprehensive list, this is the 73rd bike shop in Portland.
Burlingame Bikes is open from Thursday to Monday (closed Tuesday and Wednesday). See their hours and learn about the shop at BurlingameBikes.com.