In the future, the 2013 World Naked Bike Ride will be remembered as the year things got sophisticated.
Thanks to a permit to gather in the South Park Blocks and a deal with the Portland Art Museum to allow entrance to their bike-design exhibit Cyclepedia for the unique fee of $1 per piece of clothing, this year's WNBR started with a stiff dose of urban energy and culture.
Check out lots of photos by our photographer Alex Milan Tracy after the jump.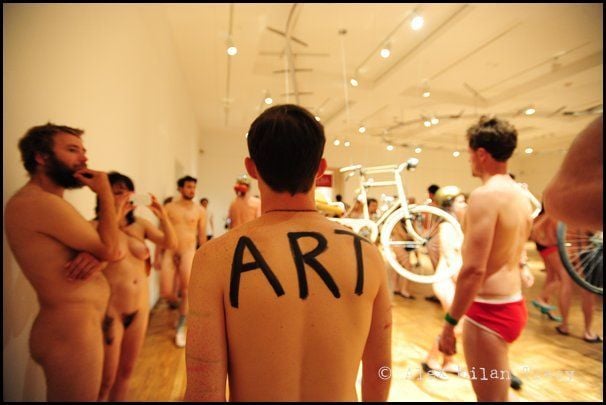 Things got underway outside the museum around 8 p.m.
We finally started to roll a bit before 11.
"Follow me to freedom"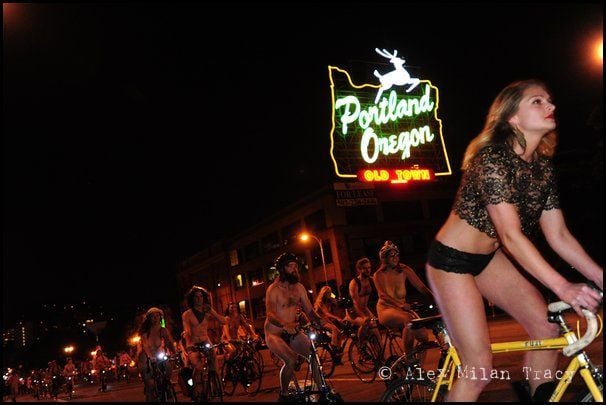 It's not clear yet just how many riders showed up, though due to the clear warm night, it was surely one of the biggest WNBRs ever. We're looking forward to hearing about your own favorite moments over the next few days.
In the meantime, you can also take a roll down memory lane with our WNBR archives.
Maureen Young contributed to this post. Thanks again to Alex Milan Tracy and his camera for stepping in while Jonathan was getting on a plane back to Portland.