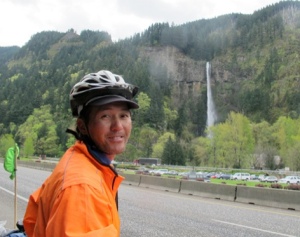 Tauru Chaw at Multnomah Falls yesterday.
(Photo: Christi Bruchok)
Riding a bicycle from Argentina to Alaska is a huge challenge. Now imagine if you were legally blind. Christi Bruchok and Tauru Chaw — both of whom are legally blind and are over 12,000 miles into their journey — will speak in Portland on Sunday.
Tauru and Christi of Two Blind to Ride have taken on this challenge in order to raise awareness of the abilities of the sight-impaired and "to inspire people everywhere to chase after their own dreams." Judging from the epic photos of their snow-filled journey from Bend en route to Portland yesterday, I have no doubt they are leaving a trail of inspiration in their wake.

Christi (the tandem's stoker) was born with severe myopia, has total blindness in her right eye, and a host of other serious vision ailments. Tauru (the captain of the tandem) has Retinitis Pigmentosa (RP), a hereditary degenerative eye condition resulting in pin-hole vision or total blindness.
"My vision is hard to describe," Christi writes on their website, "It's not useful to call myself "nearsighted" or "farsighted" since, while I do wear thick reading glasses (+8), I must hold books and things within sniffing distance of my face. I often say that my world is like an impressionist's painting: I get the gist, but I can't pick you out in a crowd." Tauru says he's losing his peripheral vision, "So now it is as if I am seeing the world through toilet paper rolls." Interestingly, the vision Tauru does have is "really clear" and he can see long distances.
Together on their tandem (and in many other adventures) Tauru and Christi can accomplish great things. They've taken on this 16,000 mile biking adventure after gaining confidence with past trips like a trek to Everest Base Camp and climbs to the summit of Mt. Rainier, Denali, and others.
You can meet Tauru and Christi and learn more about their adventures at an even on Sunday morning. They'll share a presentation at a meeting of Rose City Chapter of the National Federation of the Blind at 10:00 am at Rose City Park United Methodist Church (5830 NE Alameda St).
Check out TwoBlindToRide.org for more info.
If you have questions or feedback about this site or my work, feel free to contact me at @jonathan_maus on Twitter, via email at maus.jonathan@gmail.com, or phone/text at 503-706-8804. Also, if you read and appreciate this site, please become a supporter.