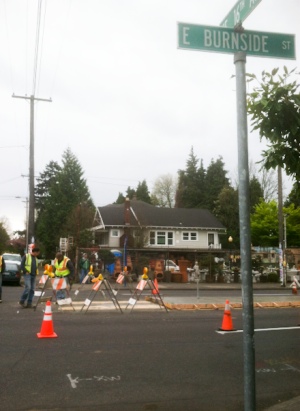 Crews at work this morning.
(Photo: Chris Sanderson)
At long last the City of Portland is making the crossing of E Burnside at 16th safer for everyone.
This intersection — which is just three blocks north of Buckman Elementary School — has been known as a safety hazard for many years. Back in December of 2007, I attended a rally at this intersection organized by the Bicycle Transportation Alliance (BTA) to show PBOT that young children and their families put themselves at risk whenever they attempt to cross it. Also in 2007, the Portland Police Bureau (in partnership with PBOT) did a crosswalk enforcement action at this location. In just an hour-and-a-half, they wrote 35 citations for Failure to Stop for a Pedestrian.
Back then, we heard promises that funding had been secured. Then we heard funded had been delayed. Basically, it was the same old story we hear about many places around town in need of small — yet urgently necessary — safety fixes.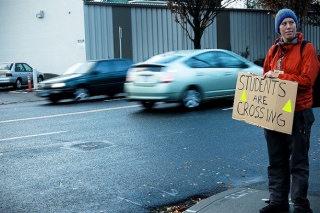 BTA staffer Stephanie Noll at a rally
at this intersection in 2007.
(Photo © J. Maus/BikePortland)
Just last year, we followed up on this project after a reader — who lives in the neighborhood and has kids that go to Buckman — asked us about it. At that time, PBOT said the project might be funded through their Neighborhood Greenways program. Stephanie Noll, the BTA advocate who organized the rally in 2007, said she figured the delay was because the intersection needed a $250,000 traffic signal.
Fast forward to this morning when reader Chris Sanderson sent us photographs of construction crews at work. Turns out something is finally happening! It's not the traffic signal Noll and many other people hoped for, but PBOT is installing a median island, a zebra-striped crosswalk, and some caution signs (similar to what they've recently added to neighborhood greenways).
According to Gabriel Graff, the operations and safety manager of PBOT's Active Transportation Division, the money for the project came from a small fund in this year's budget that was set aside for Safe Routes to School projects in the statewide Jobs & Transportation Act of 2001. The estimated cost of the project is $40,000.
(Photo: Chris Sanderson)
It's great to see something finally happen (even if it's not a full traffic signal); but it's also frustrating to think a measly $40,000 project took six years to come to fruition. It also remains to be seen whether a median and some paint will do enough to tame traffic so that it's safer and more pleasant to walk and bike across this wide, high-speed arterial. Stay tuned.
UPDATE, 2:20 pm: Graff says PBOT doesn't have plans to install a full traffic signal at this location (in part because the median precludes that option). However, he did say having the median and crosswalk in place would make it easier/cheaper to install a rectangular rapid flash beacon sometime in the future. Here's more from Graff:
"For context, new traffic signals run around $250,000, Rapid Flash Beacons with the presence of median like this ~$45,000. Either way, as you're aware, the school and the neighborhood were very much interested in us doing something sooner rather than later and our budget for these types of improvements is increasingly tight."