$30 million in transportation funds could buy you one measly mile of street widening or…
(Image: League of American Bicyclists)

Bicycling offers American towns and cities a huge return on investment; but one of its benefits that often gets overlooked in debates over spending choices is just how good a value it is from an infrastructure spending standpoint. Compared to costly highway and transit projects, creating bikeways that can efficiently move thousands of people through our towns and cities is extremely affordable.
Coverage from Washington D.C.
made possible by:
We learned just how affordable in a breakout session at the National Bike Summit on Tuesday titled, Bicycling Means Business: Getting the Facts Straight. League of American Bicyclists' Policy Director Darren Flusche shared a presentation that included a series of slides under the heading of "What will $30 million buy?" I thought it was a great way to conceptualize the affordability of bicycling, as well as give important context to the trade-offs we make when we spend money on road widening projects.
The $30 million number was also interesting to me because that's about what Oregon will have to pay each year (for 30 years) to repay the proposed loans for the I-5 freeway widening and bridge replacement mega-project (a.k.a. the CRC, but don't get me started).
As shared by Flusche, for $30 million we can either have one mile of freeway widening or…
0.5 miles of new MAX light rail line (OK, I threw this one in just for fun),
(Image: Steve Morgan)
or 600 miles of quality bike lanes,
or 100 miles of sidewalks,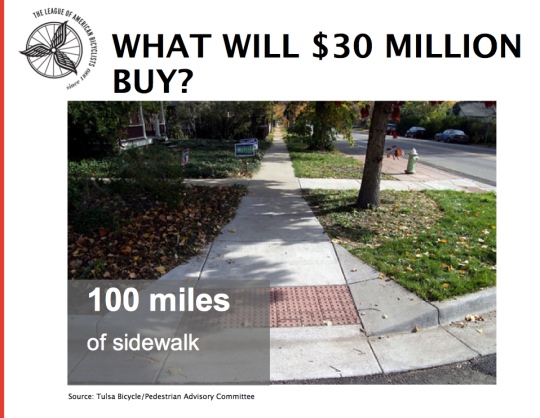 or 300 miles of buffered bike lanes,
or 120 miles of bike boulevards,
or 30 miles of bike trails,
or 20 miles of physically separated cycle tracks,
or 2,000 rapid flash beacons,
I realize transportation investment is not always an either/or proposition. But as we face budget challenges, we need to stretch our dollars as far as they can possibly go. And it just so happens that investing in bikeways is the best transportation ROI out there.
More 2013 Bike Summit coverage here.
If you have questions or feedback about this site or my work, feel free to contact me at @jonathan_maus on Twitter, via email at maus.jonathan@gmail.com, or phone/text at 503-706-8804. Also, if you read and appreciate this site, please become a supporter.