Posted by Jonathan Maus (Publisher/Editor) on November 30th, 2012 at 3:21 pm
BikeCraft is this weekend and we're getting very excited. As I always like to do before the big show, I thought I'd share the complete list of vendors. I count just over 50 of them! It's going to be a fantastic event.
From bike bags and wooden front racks, printed matter, art, and fine leather bike accessories — if you love bikes (or need to shop for someone who does) you will find something wonderful and handmade and awesome.
Doors open at 11:00 am Saturday and Sunday. Check the vendor info below (taken directly from BikeCraft website) and start thinking about your plan of attack…
——
Bags & Accessories
Bates Crates | Cole Bates
Bates Crates designed a Porter crate that would carry everything you need and still have room to bring along a coffee without spilling it! Bates Crates are designed and hand built to be as environmentally friendly as possible right here in the USA.
---
The Beebe Company | Silas Beebe
For our third century in Portland, The Beebe Company has been reborn with bold fashioned accessories for modern cyclists. Innovative bike-friendly solutions for carrying your stuff in style.
---
Black Star Bags ;| Dave Stoops
Dave Stoops was a bike messenger and was in need of a waterproof backpack but could not find the right one. Nearly five years and several hundred bags later, Black Star Bags is producing some of the best handmade waterproof bags on the streets. Visit their shop at 2033 SE Hawthorne, Portland, OR 97214.
---
Blaq Designs ;| Paul Johnson
Blaq Designs ;produces custom messenger bags, backpacks and accessories designed for rigorous use with a focus on eco-responsibility and fair business practice.
---
Bundle and Stow | Rachel Dominguez-Benner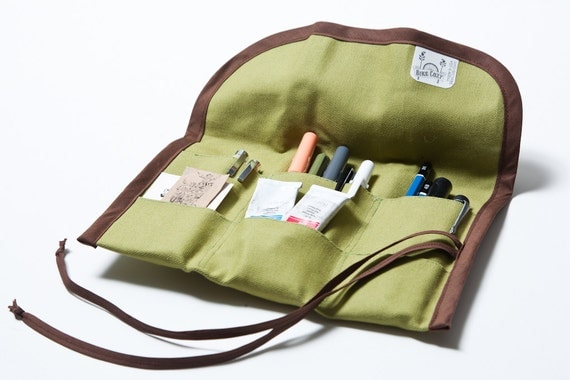 From corralling the pens and pencils from the bottom of your bag, to stowing your essential bike repair bits, or a custom roll for your favorite tools: Bundle and Stow is all about making things to organize things so you can practice your passion.
Headquartered in a small sewing studio in SE Portland, Ore., USA, Bundle and Stow is a woman owned company. Designs are by Rachel Dominguez-Benner.
---
Dank Bags | Matt Case
Strong, durable, handmade messenger bags, backpacks, coozies, hairnets and more.
---
Fabric Horse | Carrie Collins
Fabric Horse is a Philadelphia-based design and sewing studio. Our South Philly retail shop specializes in utilitarian cycling accessories and urban gear. Founded by Carrie Collins in Cincinnati, Ohio in 2003, FH began as a name for the things she created in her spare time while studying Industrial Design at the University of Cincinnati.
---
Malenkost ;| Megan McConkey
With love, Malenkost from Vancouver BC makes a variety of quality cycling accessories including custom civilian and messenger bags, ;lock holsters, hip pouches, wallets and toe straps.
---
Nomad-Unlimited | Jeff Amrhein
Nomad-Unlimited: where ancient traditions meet the modern world. My leather goods are crafted by hand in my Portland, OR workshop where each item becomes a truly unique, functional work of art.
---
North St. Bags | Curtis Williams
North St. Bags designs and builds high quality backpacks, bicycle baggage and accessories for the foot powered lifestyle. All bags are hand-made with care in SE Portland.
---
Philosophy Bags | Troy Cameron
Philosophy Bags creates classic bicycle panniers, messenger bags and backpacks that are designed to stand up to everything you do.
---
Truce Designs | Luke Mathers
The goal of Truce Designs is to make top quality bags while supporting national manufacturers and also being light on the environment. They pride themselves on re-purposing fabrics like sails and drysuit nylon that would have otherwise been discarded, and blending them with new hardware like closed-cell ;foam, cordura webbing ;and ;water-resistant zippers manufactured in the US. Truce is proud to participate in a program called 1% for the Planet, where we donate 1% of ;yearly ;proceeds to environmental organizations.
---
Tailgate Industries, LLC | Jeff Parks
Tailgate Industries was born from the parking lots of ski areas in the Rockies and is now located in Bend Oregon. We incorporate recycled materials into our unique products for outdoor industries that we our passionate about. We do all our design and manufacturing in Bend Oregon.
---
Fashion For You
Arlife ;Crafts ;| Naomi Tatsuoka
Newcomers to Portland, they're a car-free, crafty couple focused on stylish sustainability. ;Arlife ;Crafts focuses on using the maximum amount of upcycled materials possible in their product line. They love their bicycles, and their jewelry and other upcycled innertube products are sure to interest fellow enthusiasts.
---
Cagoule ;Fleece | Peter Julber
Get properly fleeced from peaks to streets with Cagoule Fleece. Based in Portland, OR, we manufacture polarfleece accessories with a post-consumer recycled content. Stop by and check out our full line of hats, scarves and gloves, plus our super-soft Merino wool items. We believe in treading lightly on the land, but being properly dressed for it, too.
---
Bike n Chain | Kimberly Schrope
Bike n Chain makes custom bike themed beanies and other designs too. All beanies are handmade from 100% pure new wool.
---
Cylical Designs ;| Savori Rardin
Accessories are created from 100% recycled leather and metal found from sources here in the North West. ; Each piece is unique and contains a history all it's own.
---
Double Darn ;| Misia Pitkin
Double ;Darn ;is a small business located in Portland, Oregon, selling handmade cycling caps and other goods. Each item is made with care by the owner and sole seamstress, Misia Pitkin. In addition to fashionable, functional, durable cycling caps, ;Double ;Darn ;also sells practical items for daily life; aprons, coasters, pot-holders, totes, wallets, sunglass cases, as well as custom projects… the list goes on…
---
Fillettante | Amanda Janney
We proudly handcraft fine jewelry and other goods from upcycled bicycle parts in Portland, Oregon. We are inspired by our joint loves of cycling, style, and repurposing.
---
Full Court Press | Lou Simmons
Creative and fun t-shirts from Portland, OR
---
Gigi's Handywork | Gigi Lascurettes
Helmuffs® are ear muffs for your helmet! These are ear covers that slide onto helmet straps and keep your ears warm during cold weather. I make these and other accessories from upcycled wool and fleece. Other products may include gPaks, small packs to keep essential items like phone/wallet/keys handy, and other useful accessories.
---
Gobha Clothing | Matt Smit
Gobha Clothing brings beautiful and functional handmade cycling caps from San Francisco.
---
Little Lark is a design-based company selling awesome hand printed clothes for the whole family, plus letterpress cards, books, and more. Little Lark is famous in Portland for their RIDE bike design… and proud of it!
---
Living in the hood is good | Holly Hall

T-shirts, art, stickers, and more from Portland.
---
Little Package | Caroline Paquette
A Portland favorite, Little Package has been making great hats and supporting wonderful causes since 2004.
---
Love Bike Wear | Lucy Love & Megan Amberson
Love Bike Wear is a line of reflective accessories that allow riding at night to be safer and stylish.
Handcrafted with love in Portland, Or.
---
Pinch Flat Designs | Ben Lewis
Based in Bend, Oregon, Pinch Flat Designs creates unique and functional bicycles accessories for the conscious cyclist. All materials are found or reclaimed in the High Desert. The idea is to take what has been tossed aside, and transform it into a new product, hopefully changing how we look at our goods along the way.
---
Rebicyclist | Julien Jaborska
After working in bikes shops for a few years and seeing the huge amounts of trash generated, Julien started taking some used parts home to see what he could do with them. Soon after his first bike tire belt was born, and after some friendly encouragement, Julien decided to keep making them. Now he's living the dream, making cool things and riding bikes — all thanks to you!
---
Rhythmic Metal | Trent Stocking
Rhythmic Metal makes super cool belt buckles, earrings, wall hangings, and pendants out of recycled bike chain, cogs, and steel. Trent Stocking, owner and creator, first began making buckles out of recycled bike chain about 2 years ago, but has been working with and making things out of metal since he was about 15. Trent strives to use as much recycled materials as possible as part of his commitment to local, handmade, and sustainable business. Everything he sells he makes by hand start to finish.
---
Velo Gioielli | Brian Echerer
Velo Gioielli creates cycling-themed jewelry that is unique and elegant. From classic bike spoke and bicycle chain bracelets to pendants and necklaces that are stunning. We are always creating, Velo Gioielli is bike jewelry.
---
Fashion For Your Bike
Sykes Wood Fenders | Paul Sykes
Sykes Wood Fenders is a woodworker and a cyclist in Portland, Oregon. After getting may comments on fenders he had made for his wife's bike, he decided to start making them to sell. Its wet in the Pacific Northwest most of the year – fenders are a necessity. But even if you don't live in a rain forest, you'll want wooden fenders because they are just damn sexy.
---
Walnut Architecture | Geoff Franklin
Fine-grained handmade and custom bicycle accessories in leather, made in Portland, Oregon. My goal is to make high-quality, beautiful, durable, and most of all functional components for your bicycle.
---
Gifts & Misc.
Bikeasaurus | Becky Morton
Bikeasaurus is Portland's best place to find fun bike accessories and local gifts in Portland, sort of like a year-round BikeCraft! Bikeasaurus sells everything from helmets to helmuffs, panniers to bicycle pizza cutters, bike tire belts to art prints. Visit their retail location: 1337 SE MLK, at Madison, just under the Hawthorne Bridge.
---
Bike ;Club ;is a network of folks who participate in organized event related to bicycles and the biking lifestyle. ;
Bike ;Club ;offers discounts to events and merchandise and freebies for checking in a premier ;Bike ;Club ;event.
---
Your local, family-owned bike store since 1974 with 6 neighborhood locations in and around Portland, OR. The Bike Gallery will be on-site providing service, demos, and gear to BikeCraft visitors.
---
Dropout Bike Club | Brian Smith
Stickers, T-shirts, and some special one time auction items from one of Portland's favorite bicycle clubs.
---
Filmed by Bike | Ayleen Crotty
The 10th Anniversary Filmed by Bike is a Portland-grown film festival of bike themed movies from around the world. The festival is April 13-18 at the Clinton Street Theater. Deadline for submissions is 1/20/2012
---
Firefly Gear | Amy Erickson
Firefly Gear is the creative playground for local Portland artist Amy Erickson. ;Products include icon patches, reflective flowers and jewelry as well as fine art. ;The ultimate goal of Firefly Gear is to bring a little and fun and mojo to your cycling.
---
Light On Fun Reflectors™ | Brian Engelen
Express yourself with over 30 decal styles in a variety of colors, all made from 3M Scotchlite reflective. Perfect for your bike, helmet, fenders, or any hard surface. This quality reflective material will hold up for years without fading, cracking, or peeling. Our iron transfers are commercial grade retro-reflective that will enhance your favorite running, cycling or walking gear. We even have fun shapes for Fido's raincoat.
---
Pedal Bike Tours | Todd Roll
Pedal Bike Tours prides itself on offering a wide selection of practical, stylish and interesting bike crafts, fashion and Oregon-centric gifts. They emphasize goods made locally from recycled materials but also carry many products using new materials by local artists and artisans.
---
Rubber Revolution | Miranda Marks
Rubber Revolution is a Seattle-based business that specializes in making unique and durable products from recycled truck and bicycle inner tubes. We collect broken and throw away inner tubes from local companies, take them home, wash them up, and turn them into beautiful things for you to enjoy forever. ;Some of our accessories include a wide variety of ;wallets, belts, keychains, travel tubes, journals, hip pouches and more.
---
Sprockettes | Laura Sherrod
The ;Sprockettes ;will be offering a multitude of bike-centric and handmade wares including posters, shirts, patches, bike tube corsets and aprons, jewelry, prints, and a zine including many DIY tutorials, coloring pages and lots of ;literature ;on bike adoration. Come support your local lady identified acrobatic mini bike dance collective. We love creating art for the people and the cyclists that make ;Portland ;a community. for more details go to ;www.sprockettes.org
---
Printed Goods & Art
Amain Bikes | Adam Lazenby
Lighting created from recycled bicycle parts.
---
Come check out Anne's new bicycle guide book as well as art and photography from her bicycle adventures.
---
Almost Monday | Serena Van Vranken
Almost Monday creates original and one-of-a-kind art prints of bikes and bike related items!
---
Glass Art by Steve | Steve Lechleiter
Bicycle-themed fused glass plates and jewelry.
---
Chickeney | Sam MacKenzie
Chickeny makes hand-thrown pottery with bike-themed decorations, for the art lover and the bike lover.
---
Forest & Waves | Edward Juan
Bicycle inspired cards, art prints, and other paper items.
---
Joe Biel has been designing and selling iconographic bicycle imagery since 1996, when he founded Microcosm Publishing out of his closet in Cleveland. Since then he's developed hundreds of t-shirts, books, fanzines, stickers, patches, and much more through both Microcosm and Cantankerous Titles that have grown too expansive for a bicycle and now require a tricycle to transport.
---
Taking the Lane, Into Action Publications, and A Serious Press | Elly Blue
Elly Blue, Ellee Thalheimer, and April Streeter are the founders of three separate small, Portland-based bicycle-oriented publishing houses. Elly's Taking the Lane publishes a series of feminist zines about bicycle empowerment. Ellee's Into Action has published Oregon bike touring guide book Cycling Sojourner and new Portland bike/beer guide Hop in the Saddle. April's A Serious Press has put out the unique, groundbreaking Women on Wheels.

---
Tomas Quinones | Illustrator
Tomas debuted his coloring book at last year's BikeCraft show and it was a huge hit. He's back with Volume 2 this year and if you want a copy, I suggest you get to his booth soon as it might just sell out!


---
Two Guitars | Scott Ballard
Two Guitars Art Cards features screen-printed and letterpress original designs. The hand-printed cards, notebooks and prints feature several bike related Portland aesthetics. The new line of Holiday Cards are available along with a large stock of variety cards!
---
Art, photography, and more from one of America's most seasoned bike culture sources.
---
Urban Adventure Leage | Shawn Granton
Shawn Granton has been working under the title of the Urban Adventure League since 2004. Besides leading bike rides, he makes zines and comics about bicycle and will have screenprinted posters and one inch buttons. Oh yeah, he edits the 'Zinesters Guide to Portland.'