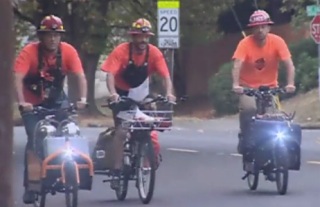 Screen grab of Woodlawn's cargo bike disaster response unit.
– Watch video below –
KGW TV (Portland's NBC affiliate station) ran a feature segment last night about how cargo bikes will play a role in our disaster response plans. It's a story we shared back in March, and after superstorm Sandy proved once again that bikes are the most reliable and resilient form of transportation after a major natural disaster, the story is even more timely.
"When roads are wiped out, and supplies scarce," noted KGW reporter Abbey Gibb, "bikes can be a lifeline… Cargo bikes, and bikes in general, are the simplest answer."
The story focused on the work being done by Woodlawn resident Ethan Jewett. Jewett is a leader of his local Neighborhood Emergency Team and he's spearheading an effort to outfit cargo bikes as disaster response vehicles. He was also one of the organizers behind the Disaster Relief Trials event back in June.
Jewett's NET unit (one of 12 throughout the city) can call upon a cavalry of cargo bikes (piloted by friends Travis Wittwer and Mike Cobb in the KGW story) that can haul huge loads of supplies and first aid equipment. A Yuba Mundo is outfitted with two stretchers, a Larry vs. Harry Bullitt carries a 1,800 watt generator, extra fuel, radio communications equipment, and more.
"If and when disaster strikes, his team and these bikes will be on the front lines."
The KGW story also featured Randy Neves with the City of Portland's Bureau of Emergency Management. "It's just a great idea. These cargo bikes are potentially life saving equipment," Neves told KGW, "Sometimes the only way to get them the supplies they need is with a bike and a bike that can carry all that heavy stuff."
KGW reports that the City is now encouraging more NET teams to invest in cargo bikes. If they do, says Jewett, "It will translate into a more resilient community" after the Big One hits.
Perhaps this more mainstream coverage will inspire even more city officials and citizens to consider taking the role of cargo bikes in disaster response plans more seriously.