Posted by Jonathan Maus (Publisher/Editor) on November 6th, 2012 at 3:17 pm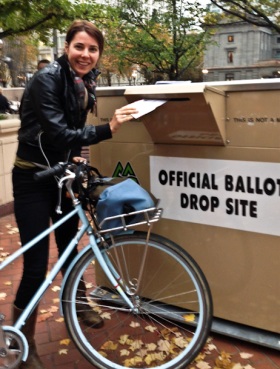 The BTA's Susan Peithman shows how
we do it in Portland.
– See more reader photos below. –
With tonight's election, Portland and the nation are on the verge of major changes.
As we settle in to watch how the votes come in, I thought some of you might want to share your thoughts and comments on candidates and policies that will be impacted by this election.
There are huge implications locally, as we could see a new majority on Portland City Council and some say voters in Clark County could deal a death blow to the Columbia River Crossing project.
I have not been impressed with any of the local (or national for that matter) candidates' visions for bicycling's role in our transportation mix. I sat down for extended interviews with both mayoral candidates, and while they had smart things to say about bicycling, they never got too specific on the campaign trail.
And one other random thought: It bugs me that, once again, we don't have a transportation funding measure to vote on.
How are you feeling about the election?
Stay tuned for more analysis of the results — and what they mean for our local transportation politics — in the coming days.
Check out a few reader photos of biking to the ballot box below
Photo by Eric Holscher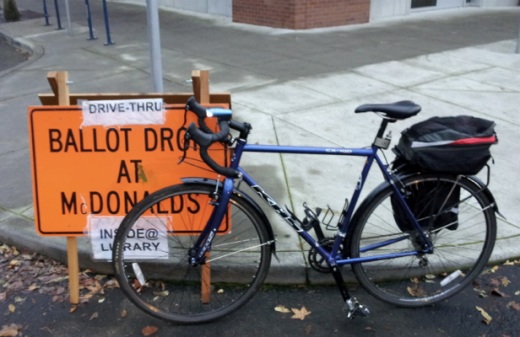 Photo by Drew Flint
Photo by Aaron Brown
Sent in by Yvette from Serious Juggling.