Posted by Jonathan Maus (Publisher/Editor) on September 11th, 2012 at 3:05 pm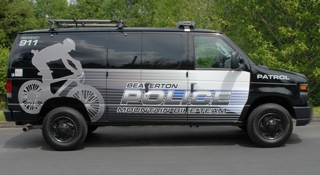 (Photos: Beaverton Police Dept.)
The City of Beaverton Police Department is proud of their bike patrol unit and they're not afraid to show it off. The BPD announced last week that the van and trailer that houses their Bicycle Patrol Unit won second place in the 2012 Law and Order Magazine Police Vehicle Design Contest.
The Ford panel van and accompanying trailer (which carries 18-20 bikes) features a custom paint job with the words "Beaverton Police Mountain Bike Team" and a large silhouette of a rider on the side.
"The judges commented that the vehicle shows a strong community support with area businesses, vendors and sponsors. They especially liked the bike graphics on the side of the van," reads a BPD press release.
Here are a few more photos…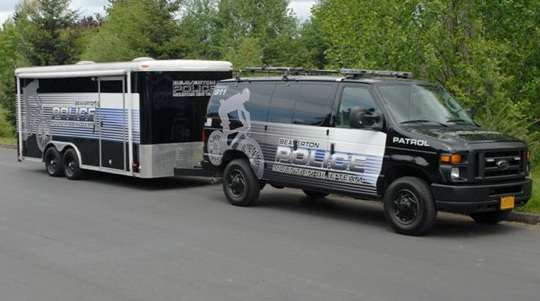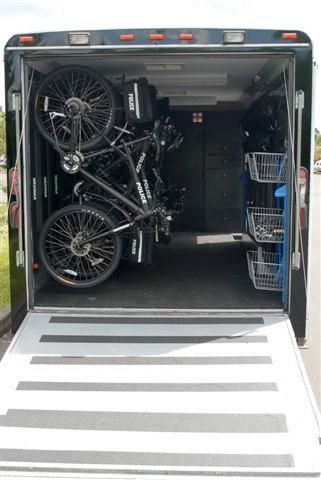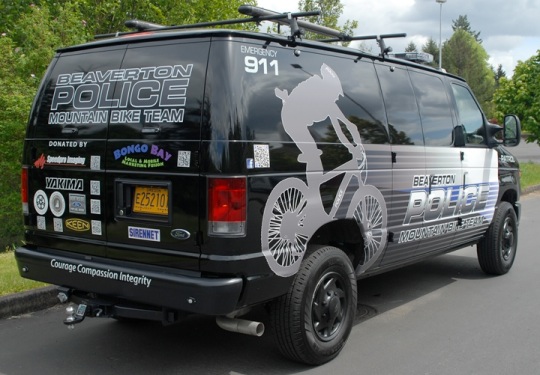 Go Beaverton PD! That thing looks awesome!
Jonathan Maus is BikePortland's editor, publisher and founder. Contact him at @jonathan_maus on Twitter, via email at maus.jonathan@gmail.com, or phone/text at 503-706-8804. Also, if you read and appreciate this site, please become a supporter.