Posted by Jonathan Maus (Publisher/Editor) on August 27th, 2012 at 4:16 pm
This photo, taken in July 2008, shows how large trucks use the bike lanes on SE Caruthers as loading zones. This practice forces people walking and biking between the Esplanade and the Springwater paths to use the middle of the roadway. Unfortunately, the problem persists. (This photo is looking north on SE Caruthers toward SW 4th.)
(Photo © J. Maus/BikePortland)

The gap in the shared-use path between the end of the Eastbank Esplanade just south of OMSI and the start of the Springwater Corridor Trail has been a thorn in the side for people who ride bikes for years. The area has been the site of numerous police enforcement actions targeted at people on bicycles. While those haven't happened for a few years, one problem that has not gone away is how the bike lanes on SE Caruthers get completely blocked by large trucks who use them as loading zones for nearby businesses.
I shared this problem for the first time in July of 2008. Back then there was a major construction zone set up in the area, so some people felt the problem might go away when construction was done. But it hasn't. Readers who ride by the area daily tell me the problem persists and remains an issue.
The photos below were sent in by reader Keith Walker last week…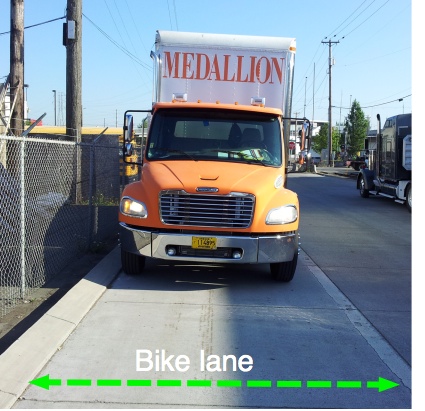 Walker rides through the Esplanade/Springwater gap every day. He says "No Parking" signage exists in the area, but they are hard to see. Here's more from Keith via email:
"Further, where the signs aren't, that is where the trucks are likely to park – which is the corner of 4th and Caruthers, in the southward direction.

Due to the nature of the businesses, I suspect many truck drivers are from out of town and they don't know better.

Thursday morning was particularly bad as there was a truck parked opposite in the north bound lane on 4th in addition to the two trucks in the southbound lane (see my photos). This cuts down on the road width and visibility of the intersection and as you know, many cyclists don't come to a full stop at the 4th & Caruthers stop sign.

Add in the construction truck traffic and the temporary road closures due to the Milwaukie Max extension, the new station at OMSI and the rail museum; you could have the perfect storm of many little hazards building into a serious accident."
Chad Berkley says he has called this problem into the City of Portland's 823-SAFE hotline several times; but has yet to see any changes and/or enforcement as a result. "The city seems very slow to do anything about large, commercial vehicles using bike lanes as loading zones," Berkley shared with me recently. "If, say, a large group of cyclists (critical mass, ahem) was blocking a major street, I'm sure they'd be right on that."
There are several industrial companies in this area that take delivery of products and materials from large trucks. Ross Island Sand and Gravel, SK Northwest (personal watercraft and ATV retailers), McCoy Millwork (lumber/woodworking company), Oregon Wood Specialties, and others. Perhaps PBOT can do some direct outreach to those businesses to inform them about this issue. Walker says another idea would be to encourage PBOT to paint more conspicuous bike lane symbols and striping in front of some of the businesses.
For legal context, Oregon law states that motor vehicles are not allowed to travel on bike lanes, except (as per ORS 811.560) "momentarily for the purpose of and while actually engaged in loading or unloading property or passengers."
Have you noticed this issue? Do you think it's a problem that needs attention? If so, what are your suggestions for fixing it? (The obvious answer is to just connect the path along the riverfront, but as we know, that's easier said than done.)
Jonathan Maus is BikePortland's editor, publisher and founder. Contact him at @jonathan_maus on Twitter, via email at maus.jonathan@gmail.com, or phone/text at 503-706-8804. Also, if you read and appreciate this site, please become a supporter.