The Oregon Department of Transportation (ODOT) and their policy-making arm the Oregon Transportation Commission (OTC) have proposed sweeping changes to how the state allocates transportation dollars and who gets to decide how those dollars are spent. The proposals come with a short timeline and advocates and elected officials in the region want several key changes before they're adopted next month.
Saying that the changes are necessary because of dwindling revenues and a need to fund, "the most effective projects based on community and state values, rather than those that fit best into prescribed programs," ODOT and the OTC are changing how the State Transportation Improvement Program (STIP) is managed. The STIP is a document that covers four years of capital projects. The 2015-2018 STIP, which ODOT is looking to apply changes to, will include a total of $960 million in projects across the state.
From what I've learned so far, there are two major parts to this story. The first is how bicycling will be impacted by the funding changes; and the second is who the ODOT/OTC will appoint to the advisory bodies that decide which projects get on the funding list.

Historically there have been 22 different programs in the STIP — each with its own dedicated pot of funding. But from now on, the money will be split into just two broad categories: "Fix It" and "Enhance". Just like it sounds, the Fix-It category are funds (which will get about 80% of the total) that will preserve the transportation system (like repairing bridges and repaving highways) and the Enhance category (which will get about 20%) is defined as projects that will "expand or improve" the system.
Here's how the money is being split between the two (I added arrows to programs that are known to fund bike-specific projects):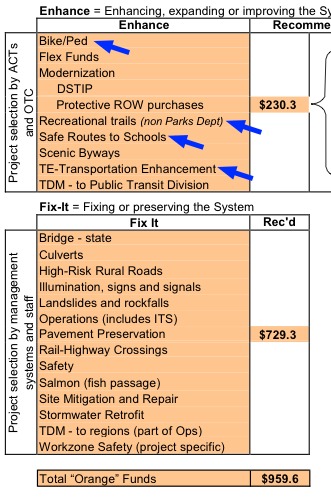 Of that $230 million going to the Enhance category, about 35% or $65.6 million will come to Region 1.
Bike advocates might be excited to see that bike-specific projects are now eligible for much more money than ever before. However, in the past two funding cycles, the OTC set-aside $20 million specifically for bicycling, walking, and transit projects. Now that set-aside is gone.
For bike advocates, mere eligibility is a scary thought. Last year, in the face of a new federal transportation law that also did away with dedicated funding streams for bike projects, the League of American Bicyclists published a white paper titled, Why "eligibility" is not enough.
Bicycle Transportation Alliance (BTA) Advocacy Director Gerik Kransky says he appreciates ODOT's intent; but he sees trouble in the details (he has explained the BTA's position on their blog here and here).
In testimony he submitted to the OTC's meeting today in Baker City, Kransky wrote that the plan, "raises alarm about unintended consequences," and that the OTC should "acknowledge potential missteps within the process to avoid creating a biased project selection process."
Kransky says the set-aside funding was a good thing because it, "fired up the pipeline" for city planners, engineers, and advocates to develop bike projects. "You have to incentive the planning," he said, "the set-asides gave cities something to plan for."
In addition to a lack of dedicated funding, Kransky is worried that ODOT's project selection process is fatally flawed. The new project applications include a list of "project benefit categories" that project applicants (city and county planners and engineers) must fill out. The categories are great, the only problem is, ODOT allows applicants to opt-out of them. ODOT also doesn't plan to have any formal scoring process to objectively weigh the merits of each project.
In a fact sheet about their plans, ODOT themselves writes,
"This STIP development process will ultimately be subjective and largely driven by matching identified problems with cost-effective solutions that reflect local values and concerns… The only real requirements within the selection recommendation process are that the projects legitimately address at least one of the benefit areas included in the application."
As ODOT has been saying for months, they are looking to empower local advisory boards — which ODOT calls Area Commissions on Transportation (ACTs) to come up with the projects under this new plan. This new emphasis on using the ACTs to assemble project lists gives them an unprecedented amount of power.
This change will significantly impact Portland. Instead of an ACT, the Portland region has always used Metro and their Joint Policy Advisory Committee on Transportation (JPACT) to serve as our ACT. ODOT, in a move that is making a lot of people uncomfortable, is now looking to usurp Metro's position as the regional ACT and appoint a new one in its place.
The new ACT — which would be called on to allocate $65.6 million in funding (Region 1's sub-allocation of Enhance funds) — would be comprised primarily by representatives from the four counties in ODOT Region 1: Washington, Multnomah, Hood River, and Clackamas. Each county would get four members on the committee. Some question this idea because Hood River County has only 22,000 residents while Multnomah County has 748,000. (The ACT would also include one member of Metro council, along with one representative from ODOT, the City of Portland, TriMet, and the Port of Portland.)
This attempt at geographic equity despite population differences has already gotten the attention of Mayor Sam Adams. On Tuesday, Adams wrote a letter to OTC Chair Pat Egan saying that, "given the fact that Cities comprise 75% of the population of Region I, I respectfully request that your proposal be amended to include a broader role for Cities in the appointment selection process, which rests exclusively with the Counties in your current proposal."
Both Adams and the BTA's Kransky are calling on the OTC/ODOT to mandate that there also be representatives on the ACT from specific backgrounds like environmental justice, bicycling, walking, freight access, public health, disabled persons access, and so on. Without placing specific mandates on who's selected, the BTA and Mayor Adams worry that the ACT — which will have powerful decision-making authority — will reflect an auto-centric perspective.
Metro hasn't remained silent with their concerns either, urging ODOT to consider more urban representatives on the commission.
—
ODOT has said they want to go beyond the traditional funding silos and build more multi-modal projects, as per mandates from Governor Kitzhaber. That all sounds very positive if you think the agency should do more to shed its auto-centric reputation. But will their new plan allow projects that prioritize biking to compete? We know we want to build a more balanced system; but will the deck be stacked fairly so that the best projects come to the top? Will the "people around the table" truly reflect our region's transportation values and goals? It will be interesting to see how this plays out.
The OTC is discussing these issues at the meeting in Baker City today and a final decision is expected at their meeting on September 19th.
Stay tuned for developments.
UPDATE: The BTA has just issued an action alert for their members to contact Governor Kitzhaber. It reads in part, "… the Oregon Department of Transportation is planning to eliminate tens of millions of dollars previously dedicated to biking, walking, and transit. But there's still hope."
If you have questions or feedback about this site or my work, feel free to contact me at @jonathan_maus on Twitter, via email at maus.jonathan@gmail.com, or phone/text at 503-706-8804. Also, if you read and appreciate this site, please become a supporter.