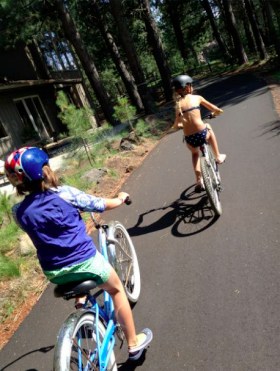 Kids can pedal without a care in Sunriver.
(Photos © J. Maus/BikePortland)
I just returned from a week in Sunriver, Oregon; a place unknown to many that just so happens to have, hands down, the best bikeway network in North America. Granted, it's just a small vacation community (nestled in a valley adjacent to the Deschutes River about 15 miles south of Bend); but it boasts a 33 mile bicycle pathway system that connects every part of its 3,300 acres.
Developed as a master-planned community in 1968, Sunriver consists of a resort lodge, golf courses, a "Village Mall" with shops and restaurants, and over 4,000 private homes. But to me, the most impressive attribute of this popular vacation spot is its bike paths. It's the only place I've ever been where the entire network is separated from automobiles. The paths are fully signed and maps are available everywhere (including on kiosks on the paths themselves).
A two-way bike tunnel under a road in Sunriver.
Many more bikes than cars at the Village Mall.
Separation equals safety.
The crossings are tamed.
Teens without helmets, sipping a drink (and yes, the truck stopped).
While Sunriver is obviously much different in character and land use than an urban area, it's still interesting to see how this pathway network has impacted how people get around. As I rode the paths with my kids, my mom, aunt, cousins, nieces, and nephews, I made a list of things that stood out.
Everyone — from kids to grandparents — rides. This is probably the most special thing I see. Grandparents with their grandkids out for a bike ride; family units pulling trailers with toddlers and bikes with baby seats; and packs of smiling teenagers racing off to their next activity. Sunriver has the heralded "8-80" goal — a term planners and activists use as a rallying cry for safe bikeways — nailed down.
The vast majority of people do not wear helmets. Most kids under 16 had them on (it is Oregon law after all), but the majority of adults don't wear them. To me, this is due to more than simply a care-free, 'I'm on vacation!' mentality. People feel there's no need for helmets. And why would they? Cars are not in the picture at all while riding in Sunriver. Which brings me to my next point…
Auto traffic is tame and courteous. There's a 25 mph blanket speed limit for all the roads in Sunriver; but that's just the start. The roads are defined by large traffic circles with severe angles so that people are forced to slow down. The roads are relatively narrow and there's never more than one lane in each direction. The larger takeaway though, is how courteous people are of bike traffic. While most of Sunriver's path network is completely separated and some crossings are made via tunnels, there are some places where the paths cross the road. Where this happens, I observed without failure that the people in cars stopped to let people on bikes cross.
Bike parking is abundant. With so much demand, the businesses and attractions at Sunriver do not skimp on bike parking. A new aquatic and recreation facility urges people to bike and boasts over 400 bike parking spaces. The Village Mall has bike parking everywhere you look.
People respect the rules. I saw very little meanness or rude riding on the Sunriver paths. People pass courteously and I never saw someone blow right through a road crossing. People are required to walk bikes through the tunnels. It's annoying; but I'd say about 98% of riders followed the rule. To me this validates one of my main principles about bicycling behavior — that respect for the law and for others goes up in direct proportion with the quality of the bikeway.
The paths have widespread support from homeowners. Getting around by bike is so woven into the fabric of the place that not only are the bike paths non-controversial, homeowners themselves elect to pay annual fees to help maintain them. In fact, the Sunriver Owners Association is in the process of rebuilding and repaving the entire bike path network. I also noticed a letter to the editor in this month's issue of the Sunriver Scene newspaper from a homeowner who was concerned about the quality of bike paths near his home.
"I am increasingly concerned about the cracks running across miles and miles of bike paths," the concerned homeowner wrote, "These cracks make riding unsafe as well as causing potential damage to our bikes. It would be detrimental to the reputation of Sunriver to have bike accidents caused by the cracks."
That letter says a lot: Make bikeways that are as safe and efficient as driving and suddenly everyone becomes a bike advocate.
While thinking about this story, I came across a research paper on Sunriver that focused on how it was planned with strict environmental codes and ethics (PDF here). The researcher noted another way the path network has impacted Sunriver:
"The Sunriver bike paths act as another important thread that stitches the community together. Their accessibility and ability to take you anywhere in Sunriver means they are extensively used by the locals. By going out and traveling by bike, all participants are experiencing the local environment first hand, and probably running into neighbors along the way. This constant use of the bike paths means residents see on a regular basis whether the surrounding environment is faring well. Are the banks eroding? Are there suddenly no longer waterfowl? Is there trash or dead trees? People will notice because they are outside and feel responsible for where they live."
Even with its limitations in terms of comparisons to an urban area, the Sunriver case proves several points about the importance — and the impact of — connected, separated, and efficient bikeways. Now, if we could just get everyone who visits Sunriver to demand the same riding experience in their own neighborhood we might get somewhere.