Posted by Jonathan Maus (Publisher/Editor) on July 24th, 2012 at 10:43 am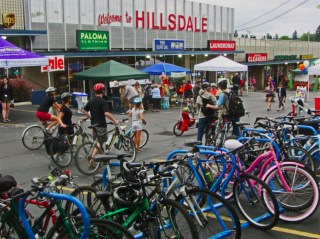 A 'Marketplace' set up at the Hillsdale shopping
center was a big hit.
(Photos: Roger Averbeck)
PBOT's Sunday Parkways event ventured into southwest Portland for the first time this past weekend. According to Roger Averbeck, an active bicycle advocate in the area, about 10,800 people showed up and the event was a big success — although it did highlight the barriers that still exist to riders in the area.
PBOT hasn't held the event in the southwestern part of town since Sunday Parkways started in 2008. That's likely because the area lacks the connectivity, bike usage rates, and flat topography of other parts of the city. SW Portland is also criss-crossed by major arterial streets, which makes preventing cars from using all the lanes and allowing people to walk and bike on them a more difficult task.
Spurred on by a "Bicycle Facilities Strategy" planning document crafted by citizen activists four years ago, PBOT has been working to improve riding conditions in the area by building out a network of bike-friendly neighborhood streets and installing bikeways along with road projects.

Roger, who's also a southwest Portland resident, said he feels the event went well, and "better than organizers expected given the hills and need to use some arterial streets with slip lanes." He pedaled the entire route and was able to compare it with Sunday Parkways events in other parts of town. "I observed less total numbers of motor vehicle driver negative interactions with volunteers." Roger also noticed the success of the marketplaces set up at the Hillsdale and Multnomah Village business districts.
Roger said the event helped highlight some of the significant barriers to bicycling that continue to persist in southwest: The hills.
"There were lots of people of all ages walking their bikes up the hills — illustrating what a barrier these are to those not used to it. The route definitely showed how poor the existing biking and walking infrastructure is in Southwest Portland despite recent PBOT efforts to add some neighborhood greenways."
Below are a few of Roger's photos

Roger also shared some quotes from the day he overheard from passersby: "Where are we?" said a rider emerging from SW Maplewood at SW 45th Ave; "What traffic engineer designed this?" said a PPB officers at SW Capitol Hwy and SW Cheltenham; and ""I have not seen this many people on bikes since I visited China," said a woman stuck in traffic in Hillsdale.
Did you attend the event? I'd love to hear your impressions of it.
Thanks to Roger for his recap and photos of the event. I am out of town and was unable to participate (it's only the second Sunday Parkways I've ever missed!).