The crowd takes in a scene from The Invasion of the Bicycle Snatchers at Buckman Elementary School last night.
(Photo © J. Maus/BikePortland

A Portland theater group has melded a love for bicycling and the art of acting into what they call a "bike play." Invasion of the Bicycle Snatchers, which enjoyed a large and very appreciative crowd on its second of four nights last night, rolled through the streets of southeast Portland telling a classic 1950s-style sci-fi tale of secret agents, aliens, and government conspiracies.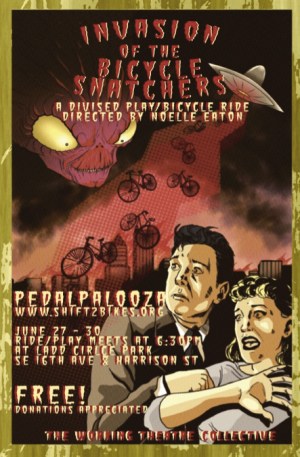 The play was directed by Noelle Eaton, who joined a talented cast of characters from The Working Theatre Collective for last night's performance. The play began and ended at Ladds Circle. For each of the six short scenes, the performers and the audience (which numbered around 75 people) biked to nearby locations as the audio soundtrack played in a loudspeaker pulled in a bike trailer (the performance itself was not amplified).
We stopped at Washington High, the Universal Cycles parking lot on SE Ankeny, Laurelhurst Park, and Buckman Elementary School. This is the fourth year in a row this theater group has shared their talents as part of the Pedalpalooza festival and it always gets rave reviews.
Check out a few scenes below:
In this scene, Bicycle Intelligence Agency (BIA) officers (played by Nick Fenster and Kaician Kato) try to shakedown an innocent bike shop employee (played by Alice Hodge) as they search for the alien invaders…
And then we were off to the next scene, a few blocks away…
In this scene, the Mayor of Portland (played by director Noelle Eaton), listens to a set of demands read by the Alien Ambassador (played by Eva Suter):
Here's the Alien Ambassador's threatening proclamation taken from the play's script):
"Eons ago a bike, much like the one who landed here, landed on my planet. It turned our bikes against us. There was a war. A bike war. Our bikes, our most advanced technology, nearly destroyed us, their creators! Eventually peace was reached between our species and the bikes through the Treaty of (insert word), granting equal rights to bikes. But some of the bikes were not pleased with the treaty, they fled omni-directionally from our planet to seek new planets to conquer. A bi-partisan committee of bikes and bipeds from my planet created as a fail-safe, we had developed a bike lock so powerful that no bike can break it. It is stronger than titanium and powered by a fusion reactor more powerful than the sun and small enough to be handled by an adult human. If I do not stop this bike it will start a bike revolt here in Portland. Nay, over the entire planet. Nay, a conflict that could spread through the whole galaxy! It is imperative that I find this rouge bike and bring it to justice, intergalactic justice. Unfortunately, I was attacked by the bike as I left my ship and dropped the key to this lock in my escape to your local authorities. But not to worry, now that your human mayor has refreshed my metabolism with your locally produced baked goods I will use my moderate psychic powers to summon the lock to me. To victory! "
Would the ominous "helmeted people" succeed in their takeover?…
Not if our fearless heroine has anything to say about it!
Southeast Portland resident Chris Walsh has seen all four years of the show. He says it's his favorite Pedalpalooza event and he looks forward to it every year. "I like that it's very bike-centric and the actors have a very creative flair." Walsh also likes the active element. "I love riding between each part," he said, after last night's performance, "sometimes you go to a play and you're sitting in your seat squirming for two hours."
There was no restlessness in the crowd last night as the story of intrigue unfolded. An innocent bike shop employee was trying to stave off an impending alien invasion that came to this planet via a bicycle-shaped comet (or was it a meteor!?). The aliens snatch up bicycles to act as their hosts and they begin to take our two-wheeled companies over one by one, creating an army of sentient cycle aliens hell-bent on taking over the world. Agents from the Bicycle Intelligence Agency (BIA) intervene, and the struggle to restore order rest within the heart of our hero Jenny and a magical U-lock.
If you haven't seen this play yet, you've got two more nights to catch it. It runs Friday and Saturday starting at 6:30 at SE Harrison and 16th. More details at Pedalpalooza.org. You can also learn more about The Working Theatre Collective on their website.