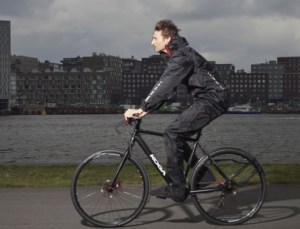 A one-piece, rain-proof bike suit.
(Photo: Bikesuit)
I don't do a lot of product coverage here on BikePortland; but a reader sent me a link to something the other day that really got my attention. It's called the "Bikesuit" and in a place like Portland where riding in the rain is a way of life, I thought it deserved your attention too.
The Bikesuit is a one-piece, head-to-toe bit of rainwear is meant to protect you from all the elements. It's made by The Smart Products Company, which is based in The Netherlands (same folks that brought us those Rainlegs chaps).
Here's more from the company:
The BikeSuit® is a suit which totally protects the cyclist and his or her clothing from head-to-toe in a safe and comfortable way in all weather circumstances. It is a one-piece suit with bike-specific hood and integrated overshoes. It is easy to put on as a jacket. With only two zippers, the total suit, including the trousers, is closed.
And this video gives you a better idea of how it works…

They say it's got plenty zippers and "air flow tunnels" to make it breathable. And there's even a little pocket for your phone. The Bikesuit won an award a Eurobike earlier this year, so this isn't some fly-by-night operation.
Retail will be about $300 and Clever Cycles says they plan to carry them in the fall.
What do you think? Will this be the new hot thing in Portland?
Contact Jonathan at @jonathan_maus on Twitter, via email at maus.jonathan@gmail.com, or phone/text at 503-706-8804. Also, if you read and appreciate this site, please become a supporter.