Posted by Josh Liberles (Contributor) on June 12th, 2012 at 10:09 am
"If you've ever been at a race where someone got mad and threw their bike, we're the opposite of that."
— Team member Dylan Robbins (aka Admiral Longpour)
[Publisher's note: As part of our ongoing racing coverage (made even better by our embedded racer and journalist Josh Liberles) we'll be featuring profiles of local teams. From the super fast to the super silly, Portland is full of them! Last week we featured the Ironclad Performance Wear cycling team; now we turn our attention to the paisley platoon: Jens Voigt's Army. — JM]
Jens Voigt (@thejensie on Twitter) is a perennial fan favorite in the European peloton known for his aggressive racing, affability and longevity – he's 40 years old and as tough and fast as ever. Portland's Jens Voigt's Army cycling team has added to the legend, both via its hero-worshiping name and through a compilation of Jens Voigt's fabulous quotes assembled into an online "soundboard" that has gone viral.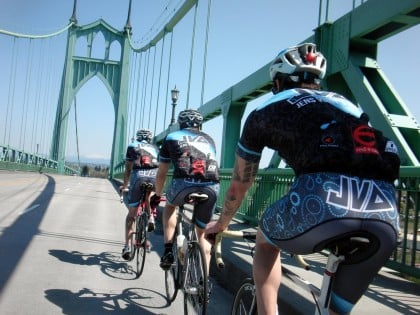 The Army storms the St. Johns Bridge.
Portland has perhaps pioneered the trend to mix bicycle-racing business with plenty of pleasure, and Jens Voigt's Army falls right in line with this tradition. In addition to the Voigt quote mash-up, JVA soldiers have poked fun at Lance Armstrong with their LA Legal Defense Soundbot 6000 and at the tone of Rapha's ads with the excellently crafted Jahvahaah Internationale spoof page (both are well worth a visit).
To get the inside scoop on JVA, I tracked down one of its founders, Dylan Robbins (aka Admiral Longpour, and don't ask me why an army has an admiral).

Who the heck are you guys? How'd the team get up and running, and were many of the current "Army" members on other squads before? Do you have racers in a bunch of different categories?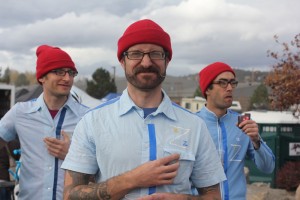 Looking good off the bike, too.
Team JVA is a loose collection of like-minded individuals dedicated to the proposition that cycling should be, above all else, an enjoyable pursuit. If you've ever been at a race where someone got mad and threw their bike, we're the opposite of that. In our view, unless your ability to pay rent and buy groceries depends upon your cycling prowess, you shouldn't take yourself too seriously. We try not to lose sight of the fact that we are lucky enough to have the ability to engage in a recreational endeavor where we can inflict suffering on ourselves and derive reward according to our whims. We want every ride, competitive or otherwise, to feel like the most fun time we've ever had on a bike.
There aren't many of us, but we spread ourselves thin across the fields. Like a high-quality compost. Or horse poop. I think we have people in most various disciplines' number and letter combinations: A. 3. B. 4. 5. C…. I think I just sunk my own battleship.
A lot of us have raced for other teams, but we preferred to ride with each other. Wearing the same spandy-pants just seemed like a natural progression. Plus, it makes it easier to find each other when we get separated after stopping mid-ride to take a funny picture of a goat. The Gentle Lovers [team] have the "Best Looking" category pretty much wrapped up, so we're going for "Miss Congeniality."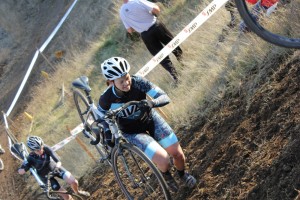 Team JVA on cyclocross assault.
I know JVA races lots of cyclocross. What else – road, track, MTB…? I read your (awesome!) Velodirt Rapture write-up. Are you participating in a bunch of events like that?
We try to go wherever the good times are, and when we get there, we try to go in a circle around the good time as fast as possible. We race road when we can, MTB when it's convenient, downhill when our resident shredder Brian Happ feels like it, and 'cross whenever possible. We inherited the old Cross Crusade RV and plan to have it up and belching by this cyclocross season. We usually don't write about our races because no one wants to read what people write about races. It's boring. The one thing we always do is the Velodirt rides, because those are guaranteed good times. If Velodirt did something called the "Barium Enema Ride," we would still show up and have a blast. In more ways than one.
I assume Jens Voigt is aware of your existence, and he seems to have a great sense of humor and attitude. Have you had any contact with him?
I know that folks have talked to Jens about us, but we haven't ourselves. That would be like trying to touch the sun.
What's your day job? Did you do all the work on the site yourself (and does it interfere with said day job?)
Some of us work in the cycling industry, and some of us don't. My day job is as an instructor at UBI [United Bicycle Institute]. The site is a team effort, with much of the heavy lifting done by myself and the intrepid Goggles Paisano. He is the Sonny to my Cher.
Why paisley?
The paisley comes from my days as a skate-punk and my love of the iconic JFA paisley skateboard deck. Incidentally, JFA (Jodie Foster's Army) served as an inspiration for the team name as well. If you have an hour, I pretty much put the subject of paisley to bed in this blog post.
How would you describe the team vibe, and what makes you distinct from other teams? Who would feel at home in the Army, and are you looking for recruits? Where do you think most of the JVA racers would fit on the just-having-a-good-time to serious-racer spectrum?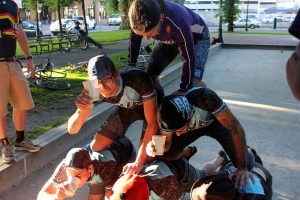 Pyramid building drills.
I'd say we're like ['80s Irish cycling superstar] Sean Kelly meets Sean of the Dead. We like to ride fast, but we put a premium on having fun and getting weird. On team rides we'll ride fast until we see something shiny, and then we'll stop and take a picture of it. We don't have fees or bylaws, and the only rule is to have an open mind and a properly closed quick-release.
As far as membership is concerned, we find it easier to manage with a small group of folks. JVA started as just a group of friends who rode together, and it has maintained that dynamic. Like a motorcycle gang, if we see someone and we like the cut of their jib, we beat them in. When they least expect it. Then we give them a jersey and teach them hand signs. That being said, we're always open to riding with new people. We have team rides that leave from the Red E on Killingsworth and Michigan at 9:30 on Saturdays, and we welcome people to come turn a pedal with us. We're anything but shy.
Is there more of a home for something like JVA in Portland than elsewhere?
Would JVA have formed in Hoboken, New Jersey? Probably, but we'd be wearing a lot more Drakkar Noir.
—
Thanks Admiral, we salute you and we'll be keeping an eye on your Army this season – you'll be hard to miss! Learn more about the team and their various projects on the Jens Voigt's Army website, and stay tuned to BikePortland for more profiles of the teams that season Portland's unique racing flavor.